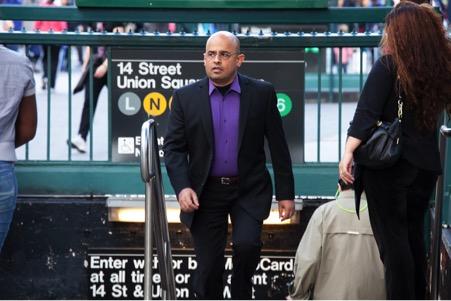 Our Researcher Profile series highlights researchers and who have used resources in Special Collections & Archives for a variety of projects ranging from articles and books to exhibits and documentaries and more.
This week's post focuses on the work of Dr. Aseem Inam, Professor and Chair in Urban Design, School of Architecture, Cardiff University, Wales, who has been conducting research in Special Collections & Archives since 2015.
1. Tell us a little bit about the project (book, exhibit, article, documentary, report) you researched in Special Collections & Archives.
The research project, "Vegas Unveiled: How Las Vegas Reveals the True Nature of Contemporary Urbanism," has two aspects: a more short-term one consisting of public presentations, conference papers and journal articles, and a longer-term one that will be a book. The book is about different ways in which the urbanism of Las Vegas has been shaped from behind the scenes and how these insights reflect similar phenomena in other U.S. cities such as New York, Chicago, Atlanta, New Orleans, etc. Thus, the book is both an empirical study of how Las Vegas is actually shaped [drawing a lot from the historical archives at UNLV Special Collections but also primary sources such as interviews and site visits], and a theoretical contribution towards understanding how contemporary cities are actually designed and built.
2. How did you hear about Special Collections & Archives?
I made multiple visits to Las Vegas and met with colleagues at UNLV who were teaching in architecture, history, sociology and law. During one of the visits, I came to Lied Library and discovered the treasure trove at Special Collections and Archives. Since then, I have been drawing on the collection multiple times for different topics and book chapters.
3. What resources, collections or materials from Special Collections & Archives were most impactful for your research?
I have used both text and visual archives. The general book collection on Las Vegas is excellent, of course, as is the Photograph Collection. More recently, I have been drawing on Oral Histories Collection as well as Maps that show how the urbanism of the city has evolved over time.
4. How did you become interested in the topic(s) you wrote about?
I began visiting Las Vegas when I was a Ph.D. student in Los Angeles. I was fascinated by a city that most urbanists seem to dislike and most urban scholars seem to spend time discussing what is wrong with it. I took a great deal of interest in how Las Vegas is designed [i.e. it is not nearly as clear or simple as it seems] and how that design is inhabited [i.e. by some of the most amazing people I have ever met]. I was also fascinated by the many contradictions that Las Vegas embodies [e.g. beyond the glitz of the Las Vegas Strip is a rich cultural milieu of artists, poets, creative activists] and how such contradictions are to be found in virtually all large cities in the U.S.
5. What surprised you the most about your research in Special Collections & Archives?
The UNLV Special Collections are a growing and evolving organism, carefully nurtured by the people who work there. For example, the Oral Histories Collection was added on a few years ago, as was the New York-New York Hotel and Casino 9-11 Heroes Tribute Collection, which I have drawn on for one of my book chapters.
6. What advice would you give to other authors/researchers using Special Collections & Archives? (Otherwise known as what I wish someone had told me before I visited Special Collections & Archives)
The best advice I would offer, apart from spending a great deal of time going through the collection online—which you can do from anywhere in the world, is to speak to the staff often. There are always new additions to the collection and staff are constantly learning themselves by interacting with scholars doing research on different aspects of Las Vegas. I have been fortunate to have had a great deal of support initially from Peter Michel, Curator and Interim Head, and subsequently from Su Kim Chung, Head of Special Collections and Archives Public Services. In fact, in recent years, Su Kim has been extraordinarily generous in helping my graduate students from the University of Toronto and from Cardiff University learn to conduct research on Las Vegas by utilizing the Special Collections.
7. How did your research in Special Collections & Archives change your perceptions about Las Vegas?
There are a lot of stereotypes about any city, including Las Vegas. In reality, cities are highly complex and even contradictory. The key is to carefully document and analyze empirical evidence, especially historical archives, in order to better understand how cities evolve over time. Having previously conducted research on cities around the world, the Special Collections helped specify the ways in which it is both different and similar to other cities [e.g. what drives its growth]. In addition, beyond anonymous economic forces or iconic figures, the Collections helped draw a more human face on the decision-making that shapes Las Vegas as well as the everyday experience of the city.
8. What are you working on next?
My next book project, which I have already begun, is also going to be a long-term and in-depth study, this time of how cities are transformed through informal strategies at the grassroots level in the global south [e.g. Africa, Asia, Latin America], where about 84% of the world's population resides. I am focusing specifically on how groups who are marginalized politically and economically not only innovate using limited resources in creative ways, but also help create fundamental change in cities.
9. If you are from out of town, what other places did you visit (could be other sites for research, restaurants, etc.)
I like doing both, experiencing places that are tourist attractions [e.g. casinos, walking along the Strip, Hoover Dam] and better understanding everyday life [e.g. neighborhoods, restaurants, parks]. My favorite place to stay—by far—has become Bluegreen Club 36, an apartment-hotel that is extremely close to the UNLV campus as well as the Strip. The main attraction for me is the excellent staff, who really make you feel at home. One of my favorite restaurants is in a strip mall off Sahara, Arawan Thai Bistro, which serves some of the most creative dishes, including regional specialties. A neighborhood that I have gotten to know extremely well through my research and site visits is what is now called the Gateway District [also known as Meadows Village and "Naked City"—which is really a misnomer, by the way], next to the Arts District.
10. What is the biggest challenge you faced while working on your project?
The biggest challenge, by far, was in my interviews. As a serious researcher, I believe in interviewing people with different perspectives on the same topic [e.g. What explains the multiple changes in short periods of time in the architecture and urbanism of the Strip?]. I found, on more than one occasion, that even knowledgeable and well-meaning insiders in Las Vegas subscribe—perhaps unwittingly—to its many myths. For example, several of my interviewees were unable to separate the private profit and personal wealth motives of the casino owners from their public pronouncements about the larger interests and well-being of Las Vegas citizens.
11. What advice would you give other researchers?
The best type of research is like detective work: refusing to take things [like the many myths and stereotypes about Las Vegas] at face value by triple-checking facts, making sure to incorporate multiple points of view by drawing on multiple primary and secondary sources, being persistent and patient in following leads and digging up hidden facts, and assembling a convincing and compelling narrative based on this empirical evidence, keen analysis and a theoretical framework that actually helps make sense of the pattern of events. When one does all those things, it can be extremely rewarding!