Our Collections
Feature the personal stories of nearly 2,800 Las Vegas and southern Nevada residents
Contain interviews (both transcribed and in audio cassette format) dating from the 1970s to the present day
Capture the lives of men and women from all ethnicities and from all walks of life, who have contributed in some way to the history and development of the gaming industry, Las Vegas, and Southern Nevada.
Oral History Research Center
Many of the interviews in the oral history collection were conducted by the Oral History Research Center in Special Collections, founded in 2003, which is devoted to conducting and collecting audio recorded interviews, sometimes supplemented by video segments, of persons selected for their ability to provide first-hand observations on a variety of historical topics in Las Vegas and Southern Nevada.
Access the Oral History Collections
Finding Oral Histories
An annotated list of our oral histories can be found in the Special Collections and Archives Portal which also provides information on whether a transcript is available for patron use. In some cases, a digitized transcript will be linked to the record. Please note that some oral histories have been cataloged and their records (searchable by interviewee's name, call number, interviewer name, subject, and call number) can be found in the library catalog.
On Demand Digitization
If there is no transcript available, please ask at the reference desk if a digitized audio version of the oral history interview is available for patron use. We do not permit use of original audio cassette tapes, due to their age and fragility. We will digitize audio cassettes on demand for a fee, but please note that this make take up to a week or longer.
Oral History Projects
You may also explore the oral history collection organized by project to gain an understanding of the focused projects that are designed to collect a series of interrelated histories.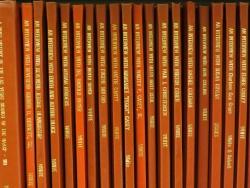 For remote users, please note if there is no release form is on file for the interview, the interview is accessible on site only.