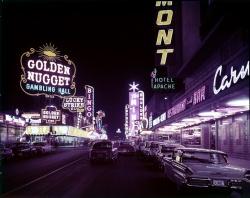 Special Collections maintains a photograph collection of over 80,000 individually cataloged images, including black and white prints, color prints, scrap books, slides, negatives, color transparencies, and glass plates. A number of additional photographs are located in manuscript collections. The photographs primarily document the history of the city of Las Vegas, the Southern Nevada region, the gaming industry, and the University of Nevada, Las Vegas. The department also maintains a nearly comprehensive series of aerial photographs of Las Vegas and other environments from the early 1970s to the present. The photograph collections as a whole date from the turn of the century and are particularly significant in documenting the physical culture and evolution of the city from the late 1940s through the 1970s.
Access the Photo Collections
The majority of our photo collections have inventories listing photo captions that can be searched by keyword, however, thousands of these images have been digitized and can be viewed via our Digital Collections and we are continually adding more digitized photographs to the collections.
For more information on our photograph collections or to request reproductions, please see Reproduction Policies and Fees or contact Special Collections at special.collections@unlv.edu or (702) 895-2234.
Featured Photo Galleries