The UNLV University Archives preserves material relating to all aspects of UNLV history, including official University records with enduring historical and administrative value, architectural records and plans, papers of prominent faculty, records of student organizations, select NSHE records, university and student publications, photographs, artifacts, and more.
Featured Online Holdings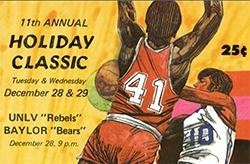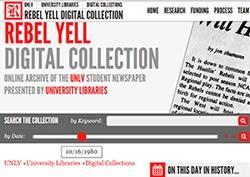 What is in the University Archives?
UNLV's University Archives includes records from academic and administrative units across campus, including the Office of the President, Office of the Vice President of Academic Affairs, Creative Services, and various student organizations such as the Consolidated Students of the University of Nevada, Las Vegas and Student Engagement and Diversity. Most records that are part of the University Archives are described in finding aids. Users can search for University Archives records through the Special Collections and Archives Portal. Other materials in the University Archives include the following:
Publications including UNLV yearbooks, the student newspaper, course catalogs, magazines, and reports. UNLV students may access some historical course catalogs online at CollegeSource Online.  
Theses and Dissertations including original, unbound copies of all UNLV theses and dissertations. These do not circulate. Circulating copies of theses and dissertations prior to 2008 are also available in the general stacks and are discoverable via the library Quick Search. Electronic theses and dissertations are available in Digital Scholarship@UNLV and Proquest.
University of Nevada, Las Vegas Web Archive which contains archived captures of websites that are part of the unlv.edu domain.
Transferring to the University Archives
The University Archives seeks publications and archival records from major administrative units and centers on the UNLV campus as well as from UNLV student organizations. More information...
Additional Resources about UNLV History