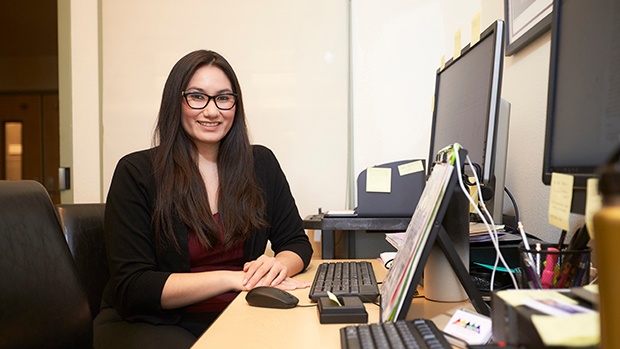 Latinx Voices of Southern Nevada is an oral history project collecting the stories of our regions diverse Latinx citizens. This series highlights the UNLV students who are working as oral historians on this UNLV Oral History Research Center project.
When her family moved to Summerlin in 2007 from the predominantly Latinx neighborhood of East Hollywood in Los Angeles, Monserrath Hernández went through a period of culture shock.
"I had never really felt out of place before, until we settled in Summerlin. For a long time I had trouble feeling like I belonged in any community," said Hernández, a graduate student in the Greenspun College of Urban Affairs.
Her family emigrated from Mexico in the '80s in pursuit of the American dream. First settling in Los Angeles, the family eventually moved to Las Vegas in pursuit of great opportunities. Hernández, a first-generation college student, worked to make the best of her experience in Las Vegas. She graduated from Valley High School, where she was part of the International Baccalaureate magnet program, and then attended UNLV, where she studied political science and journalism and media studies on a full scholarship.
While pursuing her graduate degree in the Journalism and Media Studies program, Hernández joined the Latinx Voices of Southern Nevada project as a way to connect with her own cultural heritage and the community she grew up.
"I've always known that I was different, but my experiences with the project helped me connect with other people like me and reinforced the idea that representation matters," she said. "To meet successful people that come from my same background is an amazing feeling and something unusual, that's why it's been a great privilege to work on this project."
In this interview, we asked Hernández to share more about her experiences and what she has learned while working on Latinx Voices of Southern Nevada.
Why did you want to be involved in the Latinx Voices Project?
My undergraduate studies focused on telling marginalized stories in the context of history and policy. When I heard there was an initiative at UNLV to record the stories of the Latinx community I knew I had to be part of this project. I thought to myself, "It has to be done right, it has to do justice to the Latinx experience." For me, the project symbolizes the first time that the Latinx community tells its story in Nevada, rather than someone else telling our narrative through a biased, disconnected, or outsider perspective. Throughout my life, Latinx history has never been part of what is taught in schools. It has always been a footnote or something exotic that is referenced in appendix material. The reality is that Latinx history is diverse, complicated, and beautiful. It can't be summed up in a simple side-note. It has always existed, but it has not always been acknowledged. Having the opportunity to be part of this project and hear all these incredible stories has made me so proud to be part of Latinx community. It has also taught me so much of my own history and identity.
Describe an a-ha moment that you have experienced from listening to a storyteller.
The first interview I led was incredible. I interviewed Rabbi Felipe Goodman from Temple Beth Sholom, who is from Mexico City, like my parents. In his interview, he talked about what it means to be from both the U.S. and Mexico and said, "We are always mindful of where we come from." Throughout my life I have had to justify my identity, my actions, and even my name, similar to what the rabbi had to do growing up Jewish in Mexico City. His words put my entire life into perspective. It is true that as a person of color, as the product of immigration, I had always had to be mindful of where I came from, of where my family is from. He articulated everything I have always felt, all the angst and frustration, into a simple sentence during a one-hour conversation. In that interview, which I highly recommend everyone read, I felt all my emotions be articulated into wisdom from a rabbi I had just met! It was an amazing first interview, and the interviews that followed added to the amazing experience of being a part of this project.
How do you imagine future researchers, educators and curious people will use the Latinx Voices project?
I hope that future researchers use these interviews to highlight the many great attributes of our diverse, complicated, and extensive culture. I sincerely hope they highlight the good, and if they also identify the bad, I hope they also propose a solution rather than just nitpicking what they want in their research. I hope the Latinx community sees itself in these stories regardless of background, race, or gender. I hope they feel like the interviews we conducted capture the Latinx experience from every possible angle and that everyone can find a piece of their identity within the work we have done. Most importantly, I hope that the Latinx community realizes through our work that identity does not consist of a box we check off in forms or something we are issued at birth based on how we look or where we come from, but rather a malleable entity that we can change and redefine to better suit our needs.
What is something you didn't realize before working on this project?
When I came on board, I didn't realize how quickly the term Latinx had caught on in academia. I knew it was a term created a few years ago, and I understood the usage of the 'x', but I would have never imagined it would be the official adjective used to describe the community. I also didn't realize how it's pursuit to be all inclusive, it actually left out the common person it was trying to identify. Because it is an English word created in academia, the regular Latinx person, the blue-collar worker, does not understand and often times has not even heard of this term. Through our interviews we realized that there are members of the community that feel that the term doesn't include them because they don't understand it. Currently, the term Latinx is very elitist in that although it has been embraced by academia, there has not been an effort to teach the Latinx community about what it means and how it applies to them.
If you could conduct your Dream Interview, who would it be with and why?
My dream interview would be to interview all the people that have died trying to migrate in pursuit of a better life. Their stories are our stories, and they were willing to sacrifice their life for a better life. From the lost shoes found in the Sonoran Desert, to the life rafts that drown in the Mediterranean, I wish I could give a voice to those lost that never had the opportunity to tell their stories and share their lives with others.