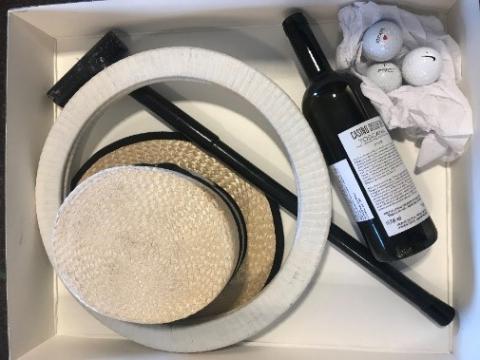 Figure 1: Archival objects from the Karl Carsony Papers, including Carsony's boater hat, balancing cane, acrobat hoops, three golf balls, and a souvenir wine bottle.
Prior to leaving for the doctoral program in history at UC Riverside, Lee Hanover received his BA and MA degrees in History from UNLV while serving as an archival processing assistant in UNLV Libraries Special Collections & Archives.
The intriguing assortment of archival objects pictured in Figure 1 was my first introduction to the Karl Carsony Papers (MS-00807). I did not realize the fame of the acrobat until I researched more about his life, discovering family pictures from Vienna, Austria, his movement across Europe as a traveling act, and his arrival in the United States where he set up frequent acrobatic showcases in Las Vegas, Nevada. As I moved from the archival objects toward the bulk of the collection, I did not know what to expect from the rest of the acrobat's papers, maybe his stage costumes folded in another box, the champagne bottle he did a handstand on, or even more of his stage props might appear. I soon discovered that the Karl Carsony Papers told an even more intriguing story than just the tale of an acrobat's career in Las Vegas.
As I reviewed the collection's contents I came across photographs of the acrobat with Sammy Davis Jr., Liberace, and Siegfried and Roy, as well as many other famous Las Vegas, Nevada entertainers. However, I was more surprised to come across Carsony's previous name, Karl Schrom, as well as letters directed to Schrom at Camp Carson, a Prisoner of War (POW) camp located in Colorado Springs, Colorado, and Schrom's POW identification name tag. I was interested in how a former Nazi soldier became one of the most famous acrobats to perform on the Las Vegas strip alongside Jewish and African American entertainers.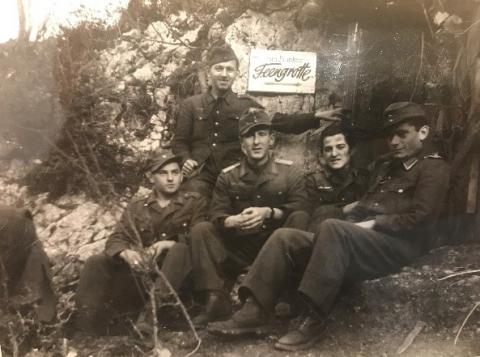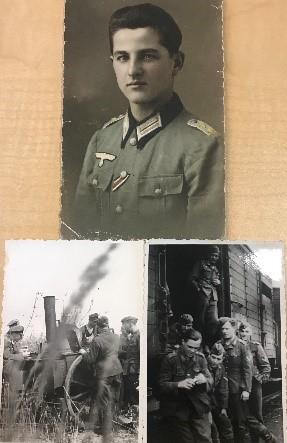 Figure 2: Top: Karl Schrom is sitting second from the right underneath the sign and the extended hand. Center: Karl Schrom in Nazi uniform. Bottom pictures of Schrom's platoon.
Karl Schrom was born September 24, 1924 in Vienna, Austria. Schrom grew up in Simmering, Vienna, the fourth child in a family of 16 children. Simmering was one of the poorest districts in Vienna, created during WWI as a surgical base. After the war the government converted the base's barracks into low income housing where Schrom lived with his family. As a poor child in Vienna, he was drawn to traveling circus shows, and they inspired Karl to become a circus performer. He started as a tap dancer, but then transitioned to gymnastics, and prepared for the 1940 Olympics in Tokyo, Japan. However, the outbreak of World War II led to the cancellation of the games, and Karl was drafted into the Austrian military under the Nazi flag. Deployed to Monte Cassino, Italy, Karl was captured in January 1944, and sent to Camp Carson Prisoner of War (POW) internment camp in Colorado Springs, Colorado.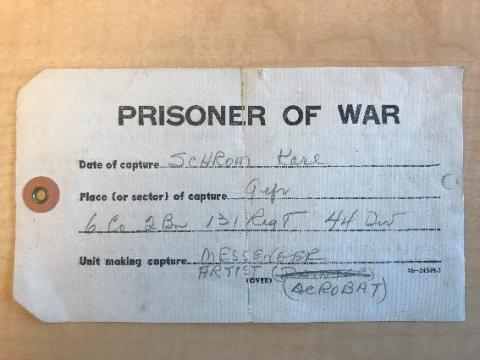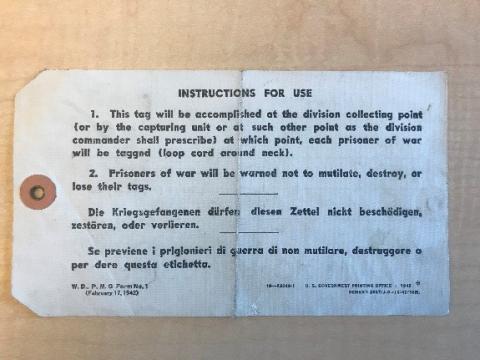 As a prisoner of war, Schrom founded a theater group within the camp itself, where he developed an acrobatic act that would make him world famous. He wrote from Camp Carson to his twin brothers, Engelberg (Bert) and Joseph (Joe) telling them to train toward perfecting a handstand. The brothers were ten years old when they began practicing their act. In 1946, Karl returned to Vienna, and the brothers made a name for themselves in the postwar Austrian circus industry.
The brothers advertised their act by calling themselves the "Carsony Brothers," the name Karl borrowed from the POW internment camp where he was imprisoned for two years. The initial act launching the brothers' careers centered on a waiter and bell hop boy performing a comedic acrobat show. Karl Schrom (the waiter) would lift one of his brothers (the bell hops) in the air, balancing them in aerial handstands, the boy would drop to the ground and run off the stage, it appeared as if the same boy would run back onto the stage from a different direction seconds later. As the act sped up, it became evident that the one boy was two, the show would end, and the audience would be amazed at the showmanship and acrobatics of the young boys. This act allowed the Carsony Brothers to tour Hungary, Great Britain, Canada, Lebanon, New Zealand, and France, and Karl continued to manage their routines. Their notoriety led to a stint in a New York City cabaret, sparking the Carsony Brothers' first tour in the United States.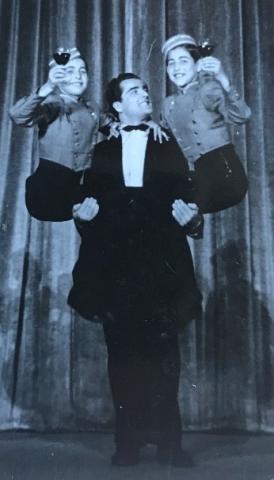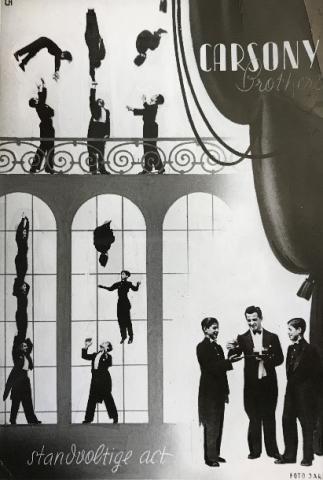 Figure 4: The Carsony Brothers' famous Bellhop-Waiter act. The twin brothers were about ten years old in the left picture and young adults on the right.
Karl Schrom experimented with their performances at the cabaret, including perfecting a one-finger handstand on the mouth piece of a champagne bottle, while balancing his weight upside down. This act and his balancing atop the Ciros club's sign in Los Angeles, California led to the Carsony Brothers appearance on the Ed Sullivan Show. After the Ed Sullivan Show they moved to Las Vegas, Nevada where they lived off-and-on for the rest of their lives, performing with notable entertainers including the Rat Pack, Sammy Davis Jr., Liberace, and Siegfried and Roy. Outside of Las Vegas, they performed at the London Palladium per Queen Elizabeth's request, and they met and worked alongside the Kessler Twins at the Lido de Paris, in France.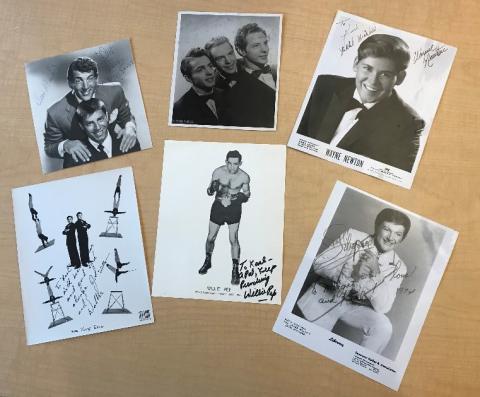 Figure 5: Las Vegas Entertainers' Autographs to Karl Carsony
The Carsony Brothers moved back to Las Vegas, Nevada and maintained steady shows at multiple hotel-casinos, performing up to nine shows a day. During these stints in Las Vegas, Karl met his wife Margot Meyers backstage at a performance. Meyers was a former Swedish ballet dancer who traveled to Las Vegas to work as a showgirl, dancing notable performances in the Casino de Paris, La Nouvelle Eve, and also with Bill Hayley and the Comets during the 1950s.
In the late 1950s Karl attempted to secure his family's livelihood by diversifying his income. Instead of relying solely on income from his performances, Karl decided to invest in orange orchards in Sicily, Italy. Karl created commercials and posters advertising his oranges to consumers around the world, until discovering he was tricked by the Italian man he bought the orchard from. Apparently, the man did not own the orchard or its transport vehicles, causing Karl to lose his investment and forcing him to continue relying on the Carsony Brothers' act for his livelihood. However, this livelihood would drastically change again in 1964, with the deaths of his twin brothers.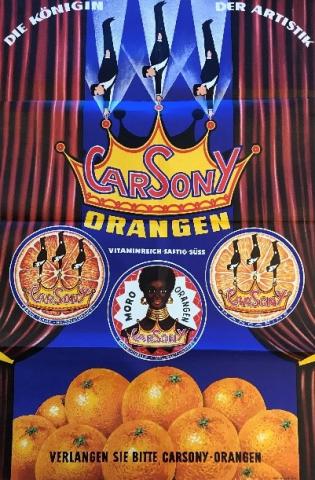 Karl's brothers died months apart from one another in tragic deaths, and stricken by grief, Karl worked only intermittently with the Goofers, a comedy performance incorporating music, dance, and with Karl, acrobatics into their performances. Karl quit shortly after joining them to pursue a solo career in the 1960s. He combined his love of golf and acrobatics into a famous act involving balancing golf balls atop multiple golf clubs with one hand. Carsony retired due to health issues in the 1980s at the age of 55, and died in Las Vegas in 2012 at the age of 78. His ashes were sent to Simmering, Austria to join his brothers' graves.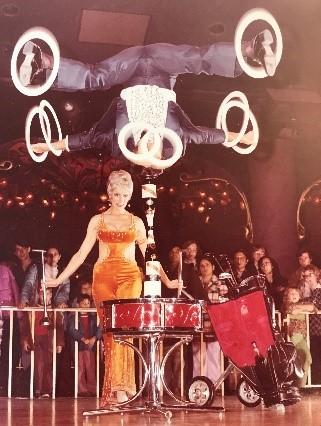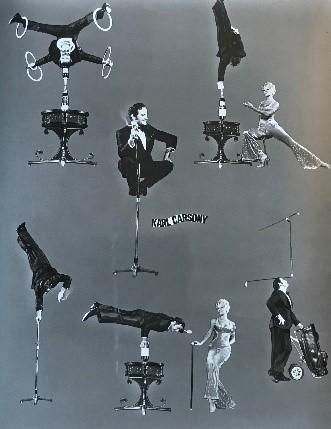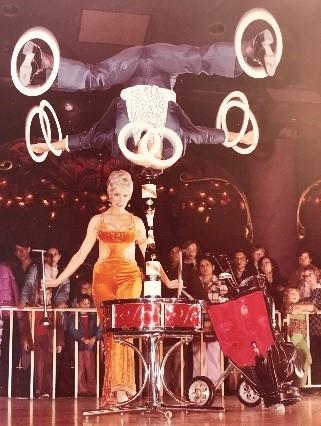 Figure 6: Karl Carsony and Margot Meyers acts
The Karl Carsony Papers are an intriguing glimpse into Las Vegas' early entertainment industry and illustrates the diversity of shows that drew audiences from around the world to a strip of road surrounded by world famous hotel-casinos. The collection also offers an amazing visual story about a family's movement from a poor Austrian community to entertaining people across the world from under a spotlight. If you are interested in Las Vegas history, its entertainment industry, or just want to view stunning photographs of acrobats and famous Las Vegas entertainers, then see the attached finding aid and come visit Special Collections and Archives at the University of Nevada, Las Vegas.
Works Cited:
Karl Carsony Papers, 1918-2011. MS-00807. Special Collections and Archives, University Libraries, University of Nevada, Las Vegas. Las Vegas, Nevada. Boxes 1 and 4.
"The Carsony Brothers: From Vienna to Las Vegas." Vimeo, accessed August 16, 2018. https://vimeo.com/118272804.
"Karl Carsony—2004 W.A.S. Legend (Professional Acrobatics)." YouTube, accessed August 16, 2018. https://www.youtube.com/watch?v=OS0_ZEef2i4.