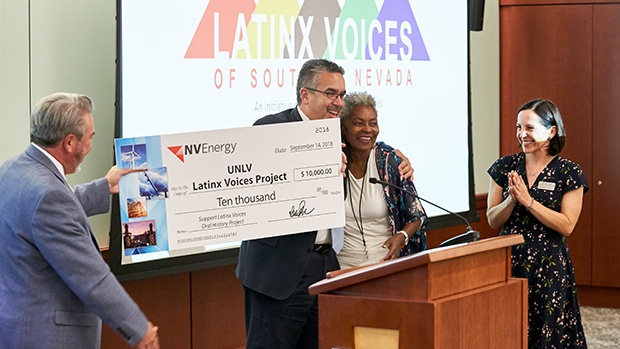 NV Energy has donated $10,000 to support University Libraries' Latinx Voices of Southern Nevada project.
"NV Energy is committed to supporting programs that honor the unique diversity and cultural heritage of our state," said Maggie Farrell, Dean of the UNLV University Libraries. "This gift from NV Energy will help us provide the educational opportunity for UNLV students, as well as engage members of the regional Latinx community, in a project to preserve the extensive impact Latinos and Latinas have had on our region's history."
Latinx Voices of Southern Nevada is an oral history and community engagement project aimed at expanding the diversity of the voices that UNLV University Libraries Special Collections and Archives preserves. The University Libraries has hired six bilingual UNLV students to conduct these oral history interviews with individuals representing a range of Latinx cultures and backgrounds.
"The Latinx Voices project is a wonderful opportunity for NV Energy to help highlight the many contributions that Latinos and Latinas have had on southern Nevada" said Tony Sanchez, NV Energy Senior Vice President. "NV Energy's own workforce represents the growing diversity of our state and it's a privilege to partner with the Latinx Voices of Southern Nevada Project to document how that diversity has, and will continue to make, our community stronger."
The NV Energy gift will be matched by a National Endowment for the Humanities Challenge Grant that was awarded to the University Libraries in December 2017. MGM Resorts International has also generously contributed a $25,000 gift to support the Latinx Voices of Southern Nevada project, along with a $50,000 grant from the Commission for the Las Vegas Centennial, and an additional $3,870 in gifts from community and alumni donors.
The Latinx Voices of Southern Nevada students are working under the direction of Claytee White, Director of the Oral History Research Center, and Project Coordinator Barbara Tabach. They will collect at least 90 oral histories from Latinx community members from all walks of life and representing diverse backgrounds.
The UNLV University Libraries will also host three community events to encourage dialogue between generations about their experiences living and working in Southern Nevada.
Find more information about contributing to the Latinx Voices of Southern Nevada project.