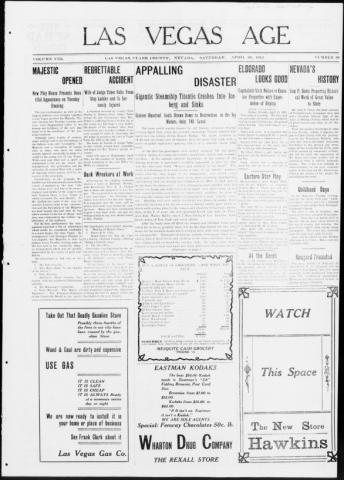 Front page of the Las Vegas Age from April 1912
UNLV Digital Collections is currently completing the digitization of two historic Las Vegas newspapers for public online access. Through funding from the Commission for the Las Vegas Centennial, the Las Vegas Age, (1905-1947) and the Las Vegas Times (1905-1906) will be available online to researchers through the UNLV University Libraries website and the Library of Congress Chronicling America website. While this project shares many similarities with NDNP in terms of process and workflow, there is one major difference; creating an inventory of over 3,000 issues from a 42-year print run. A review of the Clark County Las Vegas Library website, microfilm reels from the Nevada State Archive and UNLV Lied Library, and physical copies in Special Collections and Archives, and at the Nevada State Museum was completed to ascertain when issues were printed and to determine where these papers are located. Thirteen reels of microfilm (987 issues comprising over 7,000 pages) have been duplicated, collated for the vendor, and shipped for digitization. Quality review was of the original reels sent for digitization has been completed and next steps will include collation of positive microfilm reels and in-house photographing of issues.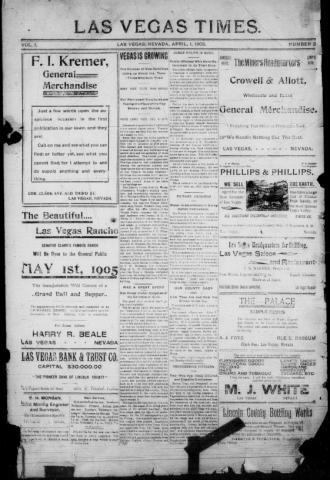 Front page of the Las Vegas Times, April 1905
Personnel for this project include co-principal investigators Michelle Light and Cory Lampert along with project manager Stacey Fott. Prior to her work in Digital Collections, Fott worked in the Dean's Office at the School of Dental Medicine and as the publishing coordinator at Stephens Press, the book publishing division of the Las Vegas Review-Journal. She completed her MA in Museum Studies at the University of Nebraska-Lincoln in 1996 and her BA in History from Gonzaga University in 1993.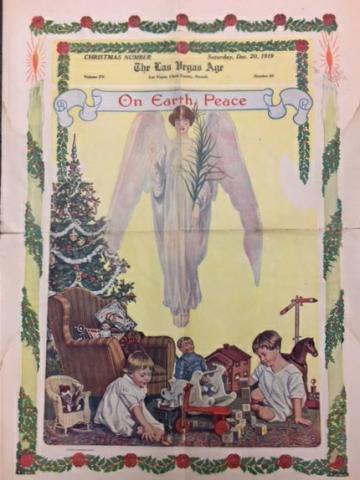 After reviewing black and white copies of newspapers on microfilm, it was surprising to see an edition with full color front page. This issue from 1919 is housed in Special Collections & Archives