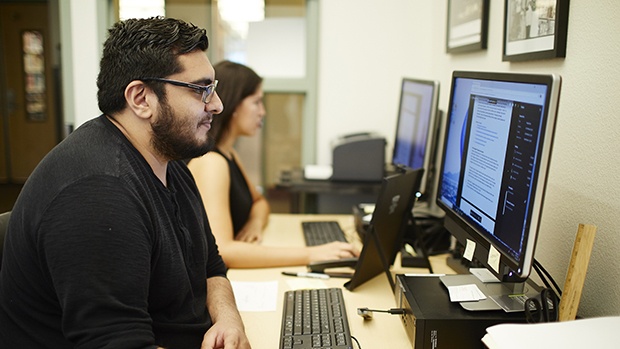 Latinx Voices of Southern Nevada is an oral history project collecting the stories of our regions diverse Latinx citizens. This series highlights the UNLV students who are working as oral historians on this UNLV Oral History Research Center project.
For Rodrigo Vazquez, Las Vegas' East Side will always be home.
"I was raised in Las Vegas, and have lived here with my family since I was 5," said Vazquez. "I was educated in the public-school system and attended three elementary schools, one middle school and two high schools here. I have lived and will continue to live on the East Side until I decide it is time to leave the Valley entirely."
Vazquez, who identifies as Mexican, graduated from UNLV this month with a double major in Economics and English. He spent his senior year working on the Latinx Voices of Southern Nevada project in the UNLV Oral History Research Center as a way to connect with his heritage and give back to the Latinx community in Las Vegas.
In this interview, we asked Rodrigo to share more about his experiences and what he has learned while working on the Latinx Voices of Southern Nevada.
Why did you want to be involved in the Latinx Voices Project?
Involvement in this project was more than a want for me. I have resided in this city for the majority of my memorable life and this project was a way for me to give back to a city that has provided so much for my family – both in terms of pain and opportunity. A community's narrative, especially an impoverished community that may lack the hegemonic language required to relay its story, is crucial for the preservation of a legacy and a testament to the community's very existence. I am not interested in speaking for others. I am interested in creating platforms that allow individuals to tell the stories that they have been forbidden from sharing for the majority of their lives. I'm interested in allowing individuals to use their own voice to tell their own stories.
How do you imagine future researchers, educators and curious people will use the Latinx Voices project?
Las Vegas is a unique city. This doesn't come from a sense of pride because I have lived here my entire life. It is a unique city because it is a place that is largely ahistorical. A building could be immersed with history in this city, it could have legends walk its halls, and it can be demolished without a second thought. The narrative of Las Vegas has largely been wrapped in a mythos created by the stretch known as the Las Vegas Strip and by marketing slogans used to propagate that mythos. Its campiness serves to create a fantasy that allures tourists. It is after all a tourist city. But beyond that it is an extraordinarily diverse place with deep-rooted historical significance. Its placement in the southwest, coupled with its relatively inexpensiveness, makes it a magnet that attracts individuals from various socioeconomic and ethnic backgrounds. These communities are drenched in deep-rooted history, and the work that is being done by UNLV University Libraries Special Collection and Archives, and in particular the Oral History Research Center, is creating a gold mine for researchers interested in race, class, and gender. It is impossible to understand the West and ignore the Las Vegas Valley. Anything that excludes the Valley as anything other than what can be explained by a tacky slogan is a huge disservice to the very research that is being conducted.
Describe what you see as the benefits to the Las Vegas community that this project provides.
We are living in a time where our identity is being thrust before us. What we identify as and what others identify us as are equally important. The project has made me extremely hopeful for the future. It is creating an integrated identity and uniting a community that isn't always visible. The project is binding together a community that is currently trying to be divided. It is also reshaping the history of Las Vegas that has always existed at the margins and is now getting the opportunity to star center stage.
What is something you didn't realize before working on this project?
I had no idea that there were any Latin Americans living in Las Vegas prior to the '70s, at least not in the numbers in which they lived. It has been nice hearing that a lot of the individuals we have interviewed graduated from the same high school as me. I also had no idea that people had such pride in this city. It's been a really interesting experience that has broadened my perspectives of the very community that I am a part of.
How has working on the Latinx project changed you thus far?
Working on this project has made me extremely optimistic. I will be the first to admit that I am not the most optimistic person. I have seen, heard, and read too much to believe that change comes easily. That isn't to say that I am a pessimist, just that I understand the reality we live in. One of the things this project has made me realize is the importance of community. That's really where change starts, within the community.