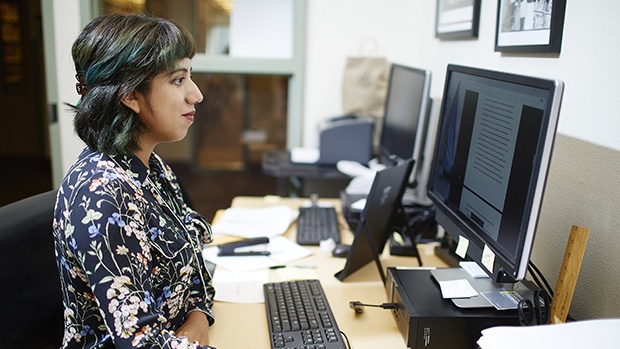 When you ask Elsa Lopez how she prefers to be identified, the senior UNLV elementary education major finds herself a bit indecisive on what term best encompasses her life.
"I like the term "Chicana" right now, because it refers to individuals like me who have Mexican parents and were born in the U.S.," says Lopez. "In a couple of years, I may identify differently. My indecisiveness is not unique, for this is the experience of many Latinx people. As of today, I identify as a Latina/Chicana and as a future Teacher of Color."
Lopez is currently learning more about her cultural background while working on the Latinx Voices of Southern Nevada project for the Oral History Research Center in Special Collections and Archives at the UNLV University Libraries. The project is collecting oral histories from Latinx residents of Southern Nevada to add more of the Latinx experience to our region's historical record.
Lopez, who moved to Las Vegas from Colorado while still in elementary school, is a graduate of Rancho High School, and attended the College of Southern Nevada before transferring to UNLV to finish her degree.
We recently sat down with this future educator, who is also pursuing a minor in French, to discuss why she was interested in working on Latinx Voices, and what she has learned so far from those she has interviewed.
Why did you want to be involved in the Latinx Voices project?
As strange as this may sound, my interest in this project probably preceded my knowledge of its existence! I became fascinated with multicultural education after taking a class with Sandra Candel at UNLV. I gained a much deeper appreciation for education and it became more than just teaching kids to love learning; I understood that education was also about teaching students to live purposefully. I had lots of experience with volunteer work, so I was frequently in Las Vegas classrooms. During this time, I became aware of a lot of the issues that were surrounding Vegas schools in particular, one of which was the lack of Latinx representation in school curriculum. Another prominent issue involves a lack of community involvement with our classrooms. I have a couple of years before I am running my own classroom, so I was really hoping I would figure out some solutions by that time. Coincidentally enough, I was sent an email about the Latinx Voices project by a friend and fellow volunteer. She encouraged me to look into the project. I was immediately interested, and applied straight away. I want to be involved with this project because I see such an outstanding need for it. Latinx students and families in Las Vegas deserve to know the creation of Las Vegas through the stories of people who look like them.
Describe an a-ha moment that you have experienced – a nugget of a story and the lesson you learned from listening to the storyteller.
One of my favorite stories came from Rosemary Flores, who was actually the person who encouraged me to take this position! I had known her for a while and had been so excited to interview her. She had just finished telling Claytee (White, Director of the Oral History Research Center) and I about her schooling in Mexico and how it differed from her schooling in Nevada. Some contrasts were evident enough – the schools in Reno were better funded and had an abundance of resources. Her Christian school in Mexico lacked materialistic wealth, but regardless Rosemary spoke about her time there very favorably. She said that she felt so welcomed at her school in Mexico, and that this comfort provided for a better learning experience. This story brought up an important question: what can schools in the U.S., even the more affluent ones, learn from small, close-knit schools like the one Rosemary attended? I wonder if maybe U.S. schools need to put more emphasis on teacher-student rapport. Lots of American schools seem to view the classroom needing to emphasize hierarchy, with the teacher in the position of power. What if this dynamic was altered so that teachers were mentoring rather than dictating? What if the classroom were more welcoming rather than demanding? Maybe students would develop an intrinsic appreciation for learning. I think about that a lot.
How do you image future researchers, educators, and curious people will use the Latinx Voices project?
I envision my own future classroom and my future elementary school students who are growing up in Las Vegas. I want them to have a detailed understanding of our city's history and its rich culture. It is easy to define Las Vegas as a transient city where tourists come to enjoy the Strip, but the beauty of Las Vegas is more nuanced than that. The wonder of Las Vegas resides in the strong community that was formed here. I want to include the history of our city in a lot of my future lessons, and the Latinx Voices project will be such an amazing resource! I believe my students will value learning about the impact their families and heritage have had on Las Vegas.
Describe what you see as the benefits to the Las Vegas community that this project provides.
This project is so multifaceted, so surely it will mean different things for different people. For the Latinx community it means having their voices heard, their accomplishments recognized, and their history preserved. For all other people, I think it will help define the Latinx perspective. Many of my non-Latinx friends are familiar with our hardships, but being familiar alone is not always enough. I think it would strengthen our communities if people knew how much of an impact the Latinx community is making. Maybe it's my own idealistic beliefs, but I think the most effective way to break down barriers is through conversation.
What is something you didn't realize before working on this project?
After interviewing a couple of people and going to a few events, I realized that we were seeing a lot of the same faces! Even outside of the university bubble, it seemed like all of the people we were talking to were connected in some way. It changed my perspective of Las Vegas. I thought about how many tourists will remember our city for the glamorous casinos and attractions, but what many people may not know is that Las Vegas has a flourishing social activist scene. For example, my colleagues in the Latinx Voices project are involved in work with my friends at multiple grassroot organizations, who are then involved with different schools in Clark County, whose teachers are involved with families, and business owners, and so on. We are all bonded through our efforts to see Las Vegas to a better future.
How has working on the Latinx project changed you thus far?
This project is changing me in more ways than I can count. I used to suffer from social anxiety, and while I have gotten better I am still pretty soft spoken. A couple of years ago I would have assumed there was no room for people like me in the social activist scene. That was until I took a class with Dr. Candel here at UNLV. She shared with her class one piece of advice I will never forget. She said that she would not let her timidness come in the way of speaking her truths. Even if she was nervous, even if her voice shook, she would say what was on her mind. I want to be like that too. This project has given me liberties with how I conduct and format the interviews, this means I can ask difficult questions when I see fit. This is a lot harder than it sounds! Sometimes our narrator is very well established, and sometimes I overthink my next question. But during the interview I have to feel confident in my abilities as the lead interviewer. So even though I am nervous, I proceed and deliver the best interview I can. Through this project I have gained a lot more confidence and courage.
If you could conduct your dream interview, who would it be with and why?
If I could interview anyone, it would be Dr. Sandra Candel. She was my introduction to multicultural education and social activism. I could ramble on about how her class changed me as a person and as a future teacher. In that same respect, I would love to interview Michelle Arroyo who was another wonderful professor I had. Both of these women have been role models of mine, in that they have successfully spoken about education in an equitable and caring way. Dr. Candel was also the first Latina instructor I ever had! I know that both of these women are probably distinguished in the education circle, but I want to know how they got to where they are. I think anyone, regardless of studying education or not, could benefit from hearing about what these women value and what they are working on next.
Any additional thoughts?
I am really proud of the work my colleagues and I do. I think back to my past self and how she would have benefited from a project like this. My first few years of schooling took place in Colorado, where I was the only girl in my grade who was enrolled into ELL. Because I was the only student in the program, I got a lot of attention! I learned how to speak and read English there. When I started school in Las Vegas I loved that everyone looked like me, I never had to endure bullying because of cultural differences, and I got to invite friends over because it was so much easier for everyone's parents to get along. There was one issue though, even though I was young, I was well aware that none of my teachers were Latinx. Race became more apparent still when I attended Rancho High School. Even though the majority of students zoned for Rancho were Latinx, there was a lack of Latinx students in the advanced placement courses I was in. Most of those classes were full of magnet students who rode in on buses from the other side of town. I used to think of this divide as "soft segregation". Most white and Asian students were excelling, while the black and Latinx were struggling. This is when I first began to think about racial inequity. Through years K-12 I severely struggled with academics to the point of nearly dropping out during my junior year.
This is something I think about nearly every day. I almost fell through the cracks, which unfortunately is a reality of lots of young Latinx students here in Nevada. Like many other students, I recognized that something was very wrong. But I didn't know what to do. I didn't have the vocabulary to describe the systemic inequities that were all around me, and without more resources I felt powerless. If I had more Latinx teachers, or learned about how important people like me are; if I had seen myself in a more positive light, if I knew there were countless individuals who wanted to see me succeed, then maybe I wouldn't have felt so isolated. If I knew that the community of Las Vegas depended on people like me then maybe I would have felt proud of my heritage a lot sooner. I hope that this project will enable other students to take on that same perspective.