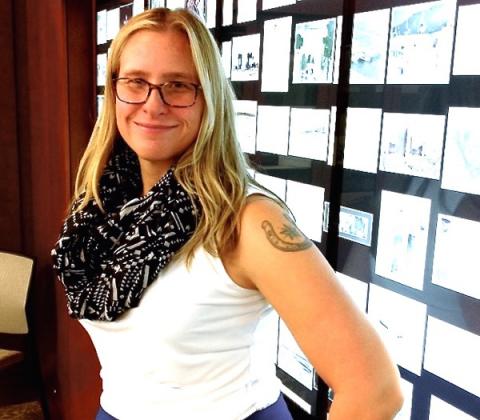 Cory Lampert, Head, Digital Collections, Special Collections Division
In our Secrets from Special Collections series, UNLV Libraries Special Collections staff members divulge what they consider to be the hidden gems of the library, sharing answers, based on their own experiences, to six intriguing questions. Here, Cory Lampert, Head of Digital Collections gives us a glimpse into life working among the rare treasures of the library.
When you first began working in Special Collections, what was the one item or collection that made your jaw drop, and why? Describe.
To be honest, I've never met a collection at UNLV Special Collections that wasn't fascinating; either as a physical artifact, as an information resource, or as a challenge to scan and put online. But, as a newly graduated librarian hired at UNLV ten years ago, I was absolutely thrilled that I would be starting my new job digitizing costume designs for the iconic Las Vegas showgirl.  In particular I loved the drawings in the Josephine Spinedi Collection (MS-2000-19).  These drawings are unique, important to documenting entertainment history, of interest to researchers worldwide, and the gorgeous colors really pop when you look at high resolution images of them on your computer screen! I learned a lot from that first collection, but I still find myself getting lost in it when I browse through the digital collections. 
What do you think may be the single most overlooked part of Special Collections?
I often worry that many people in the university and community have stereotypical ideas about the type of collections and attitudes of people working in archives and special collections. We have been known to wear cardigans, but you are just a likely to see us crawling around under a desk fixing a computer, planning a scanning expedition in the community, or posting a Vegas themed hashtag to our Special Collections Instagram account. If you take the time to look at our digitized collections it is clear that we are more than "boring" boxes of paper and that Special Collections includes some pretty dazzling, quirky, and thought-provoking stuff. And if you come up to the third floor and visit, you will see that our staff are some of the most helpful and resourceful people you'll find – and this in a city known for good service and hospitality.
What is the one question you are most asked about your work, or elements that fall within the scope of your job description?
"When will it all be online"? Yes, it's made abundantly clear to me almost every day that if all these great library resources aren't showing up in Google web searches, viewable on mobile devices and immediately shareable on Facebook, well then they might as well not even exist to many people. So, my team and I have our work cut out for us as we attempt to get more and more content online as fast as possible.
What is the most fascinating or positive aspect of your job? In answering, describe a little about what you do on a daily basis. What is the most difficult aspect of your work? Describe.
There is a lot that goes into digitization and online access; things like scanning at a resolution that will create long-lasting quality digital images, tagging images with metadata so that users can find what they want without sorting through pages of results, doing back-end database work that helps our systems reveal relationships between objects and shows how they fit within collections. It can be hard to know that we will never "finish" digitizing everything, no matter how rapidly we increase production. Technology is always changing, and it can be difficult at times to evaluate and implement the "right" tools. But with a team that includes two library technicians, a digital special collections librarian, several grant-funded professional staff and many student assistants, we are constantly moving forward and evolving. The department is full of talented people who know a lot about digitization standards, metadata, web technologies for digital libraries, and local Las Vegas history, yet none of us takes sole credit for anything that we do. Every digitization project involves a team of people, and their expertise makes the project so much richer than anything any of us could do on our own. I love that everyone in Digital Collections, from the students scanning photos in our lab to the faculty librarians publishing internationally recognized papers, all participate in a creative process to bring material through the digitization lifecycle. Every day we learn something new together. We are probably one of the most regionally collaborative units in the library, and there is a lot to be gained from the relationships we cultivate with the Mountain West Digital Library, Digital Public Library of America and projects like our Nevada National Digital Newspaper Program. Individually, I have one of the best jobs in the library, and I am passionate about fostering innovations that drive UNLV to deliver digital content online responsibly while providing engaging experiences for our users.
What are you working on right now? How will it contribute to Special Collections?
I am always looking for opportunities to build relationships and collaborate with other cultural heritage institutions in Southern Nevada,  as well as with community groups. We are working on the third year of the Documenting the Jewish Community in Southern Nevada Project and will be promoting the website this year to audiences including teachers and educators. There is always a need to get more material online,  so we are working on our first rapid capture digitization project using a sophisticated camera system to capture up to 250 images an hour from the Culinary Union Collection. Along with all of our ongoing projects and grants, we are always looking to connect with users in new ways. We often give library tours that showcase our touchscreen digital exhibit display and promote the UNLV Linked Data project. These examples show some of the innovative projects that deliver, connect and transform digital collections through technology in new and captivating ways.
What advice would you give students seeking to isolate a topic in Special Collections using primary source materials?
Think big, bold, and Las Vegas-style! You may not imagine that Special Collections could be relevant to your science or hospitality class--but think again! One of the advantages of working in UNLV Special Collections is that every day I see people who are searching for and using information in amazing, unanticipated ways. We've heard some amazing stories about researchers using historic menu collections to track overfishing when certain dishes trended in restaurants. The recent Riviera implosion team consulted our archives in their work. And there are people out there that are interested in details as small as a historic spittoon. So, don't worry if your idea is a little unorthodox. We love to help with interesting information searches. There is a wealth of fascinating information right here at your doorstep, and I guarantee that a trip to Special Collections will make choosing a research topic or digging into a class project a lot more interesting. So, if you want to make a real impression in your next presentation, get online and look over some of our digital images online,  just waiting to be added to your Powerpoint. Yes, searching  "sequins" is totally allowed!