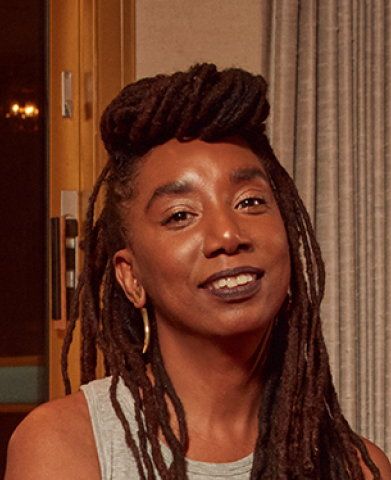 Our Researcher Profile series highlights researchers and who have used resources in Special Collections & Archives for a variety of projects ranging from articles and books to exhibits and documentaries and more.
This week's profile focuses on Erica Vital-Lazare, the multi-talented artist and professor of creative writing and Marginalized Voices in Dystopian Literature at the College of Southern Nevada. Her work has been featured in Catalyst, Sojourner, Thrice and Callaloo II. She is co-producer of the photo-narrative installation Obsidian & Neon: Building Black Life and Identity in Las Vegas and editor of Of the Diaspora, a series revisiting classic Black works in literature with McSweeney's Press. In fall 2021, her exhibit Seeing /Seen at the Barrick Museum was part of the Womxn of Color Arts Festival.
1. Tell us a little bit about the project (book, exhibit, article, documentary, report) you researched in Special Collections & Archives.
When I was invited by UNLV's Marjorie Barrick Museum and the Women of Color Arts Festival to curate an exhibit for Fall '21, I was struck by the need to fill the white walls of the museum space with images of Black women. The resulting exhibit Seeing/Seen in stark terms of curatorial statement "confronts and corrects both the hyper- and invisibility of Black women." My more personal desire was to simply celebrate in public space the innate and hard-won beauty, grace, and will with which Black women not only survive in formerly hostile spaces, but how we transform and re-seed such territories, shifting the soil, ionizing the atmosphere—terraforming—creating Black, habitable spaces when and where we enter.
2. How did you hear about Special Collections & Archives?
Special Collections is an archive in the truest since in that it not only holds the record but does the necessary work of making the record accessible, of use, to the public it serves. Whenever I've attended panels, exhibits or come across documentary film that touches upon the varied histories of Las Vegas, UNLV's Special Collections is credited. And in her active fieldwork of preserving the voices of the Las Vegas community the very presence, expertise and passion of Director of Oral History Claytee White becomes an invitation to go into the stacks.
3. What resources, collections or materials from Special Collections & Archives were most impactful for your research?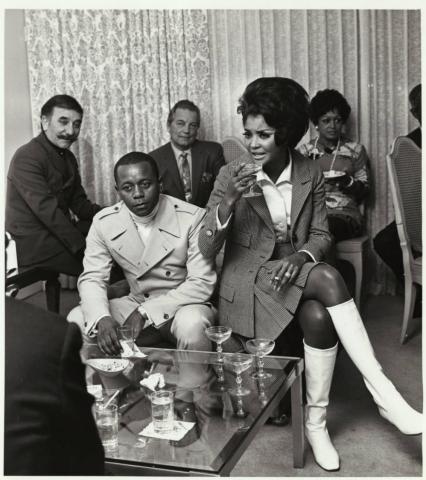 Seeing/Seen would not be possible without UNLV University Libraries' database "Documenting the African American Experience in Las Vegas." The exhibit opens with a photo of a Black woman engaged in the work of caring for a white child. Gleaned from the database, the circa 1904 image becomes a portal to discussions about class, gender, and the ability of Black women to resist narratives meant to contain and diminish. Images of a young Lola Falana on stage, Nancy Wilson holding forth in white boots at a birthday party with Flip Wilson by her side, or an anonymous woman cleaning rooms at Bally's while impeccably coiffed and styled in sunglasses were also acquired via this database and exemplify the varied presentations of Black women in life, work, arts—and in themselves hold multiple visual cues, codes of story and history.
4. How did you become interested in the topic(s) you wrote about?
As a Black woman artist, writer and academic my work is invested in the celebration, exploration and reclamation of our stories.
5. What surprised you the most about your research in Special Collections & Archives?
My access to the archive was not confined to the digital. Going into the physical rooms of Special Collections and being able to confer and converse with librarians such as Su Kim Chung who would point me in the direction of the obscure, the rarely seen, then hand me the gloves, the light boxes, the folders by which to hold, read and see up close these glimpses into the living past--this direct and needed engagement--surprised and spurred me on. Su Kim Chung led me to original Kodak slides of Lena Horne onstage in a series of jewel-toned evening gowns, while a chorus of white male dancers swirl and genuflect at her feet. I was not certain how, or whether, I could have access to such a fragile treasure. Aaron Mayes miraculously and generously digitized the slides for my exhibit.
6. What advice would you give to other authors/researchers using Special Collections & Archives? (Otherwise known as what I wish someone had told me before I visited Special Collections & Archives)
Think of the librarians as collaborators. Go deep. Engage up close. Request and open box after box.
7. How did your research in Special Collections & Archives change your perceptions about Las Vegas?
To find that 1904 image from the Ferron/Bracken collection of a Black women in fine but simple Victorian dress as she made a living and elevated living for the child in her charge made it possibly for me to re-map the more publicized images associated with the early history of this valley.
8. What are you working on next?
I am beginning a documentary project.
9. If you are from out of town, what other places did you visit (could be other sites for research, restaurants, etc.)
I am a Las Vegas transplant who lives and works here and can say that the Historic Westside, its landscape of churches, parks, curbside restaurants, and modest homes all residing among the shell of former jook joints and shuttered casinos, continues to be an inspiration. With the guidance of museum directors Sarah Hulme and Hollis J. Gillespie, I was also able to tap into the Nevada State Museum archives, where I was introduced to the story of Ina Ray Hutton, leader of one of the first all-female swing bands to be nationally televised. Known as the Blonde Bombshell of Rhythm, Hutton was born Odessa Cowan, and documented as "Negro" on her certificate of birth. The museum has digitized footage of Hutton's Las Vegas performance
10. What is the biggest challenge you faced while working on your project?
Discernment. In accessing such a wealth of images, stories, and voices, the impulse is to share all that you
find. Keep a running record document such finds for future projects.
11. What advice would you give other researchers?
Document your research keep a running list of reference id numbers. Hydrate. Read meaningful work as you research. Document how you feel with each new or rediscovered fact, story, image or memory.