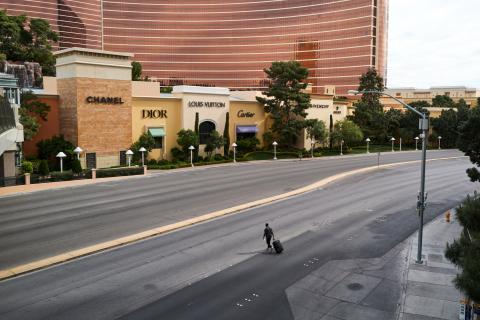 Like many university libraries and archives across the country, UNLV Libraries Special Collections & Archives has been documenting the community impact of the Covid-19 pandemic to create a permanent collection for future researchers. Our collecting efforts are focused on how the coronavirus has affected everyday life in Las Vegas and Southern Nevada, and includes the following types of materials:

Visual Documentation: Visual Materials Curator and photographer Aaron Mayes captured the barren landscape of the Strip and Downtown Las Vegas soon after casinos were shut down in late March. These striking images have been featured in print media both locally and nationally, and recently, a French magazine requested permission to use them in a publication. Aaron continues to create a photographic record of the Las Vegas urban landscape during the pandemic months which will become part of our permanent COVID-19 Collection.
Web Archiving: Technical Services archivist Tammi Kim has been capturing a variety of websites which illustrate how local and state governments, schools (including UNLV), organizations, and businesses are responding to the effects of the pandemic. Among the external web captures outside of UNLV are local news media websites and official announcements and memos from the hospitality and gaming industry. These will become part of our permanent web archive for researchers. Explore the archive.
Twitter Archiving: Metadata Librarian Darnelle Melvin is capturing tweets and has created a web app to visualize social media generated data. His work captures local COVID-19 related tweets within a 100-mile radius around Clark County, Nevada's Governor Steve Sisolak's official tweets, and UNLV official tweets.

Oral Histories: Claytee White and the staff of the Oral History Research Center have designed an oral history project that will gather the voices of Las Vegas residents who have been impacted by the Covid-19 pandemic. We hope to capture the stories of grocery store workers, first responders, doctors, nurses, casino workers, and many others who have been impacted by this public health crisis. In particular, they are looking to ensure that we collect the stories of communities of color who have been disproportionately affected by the coronavirus. For the first time, the center is also collecting empirical data through a survey instrument. The list of about 30 questions will be posed along with the typical open-ended interview format. The project design is also more complex, calling for each person interviewed in the project's first year to be interviewed for a second time 12 months later. This two-year project is currently in the process of applying for funding that will allow a dedicated interviewer and editor to assist the team in capturing as many interviews as possible.
We are also interested in collecting physical and digital materials related to how the pandemic and resulting quarantine have affected the lives of local residents. If you have material that you think may be of interest, please contact us at special.collection@unlv.edu or leave a message on our phone at 702-895-2234 and we will return your call when we are back in the office in July.