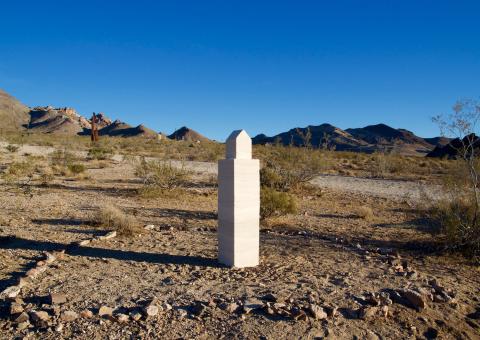 Our Researcher Profile series highlights researchers and who have used resources in Special Collections & Archives for a variety of projects ranging from articles and books to exhibits and documentaries and more.
This week's post focuses on the work of artist and sculptor Emily Budd, MFA, who is currently a part-time instructor in the UNLV Department of Art teaching sculpture and 3D foundations.
1. Tell us a little bit about the project(book, exhibit, article, documentary, report) you researched in Special Collections & Archives.
I did most of my research for a public art piece, Memorial for Queer Rhyolite, a temporary monument to dreams in the dust. It was installed in Rhyolite, NV at the Goldwell Open Air Museum for the Bullfrog Biennial in October 2019. The work memorializes the dreams of a small group of LGBTQ+ folks, led by Fred Schoonmaker and Alfred Parkinson, who attempted to found a queer city in Nevada in the mid 1980s. Named "Stonewall Park," their dream was to establish a safe place during a time of AIDS-related hysteria, societal homophobia and illegal sodomy. The purchase of the abandoned ghost town of Rhyolite would grant them ownership of a city where they could elect their own leaders, pass their own legislation and therefore become a peaceful, openly-queer community. However, they suffered violent protest from the area, and ultimately were unable to raise the necessary funds to gain the rights to the city. I felt compelled to memorialize their effort as a means to continue their story, finding it to be omitted from many histories of Rhyolite. This column of packed desert sand and displaced mine tailings will eventually crumble, burying the tiny monument that lies inside: "here lie dreams of Stonewall Park, a safe and peaceful place."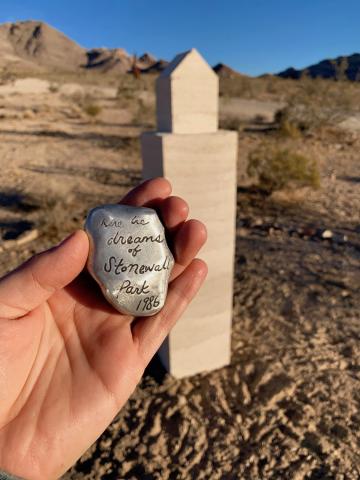 2. How did you hear about Special Collections & Archives?
During my early research for this project I saw the Stonewall Park Collection mentioned in a bibliography, which led me to Special Collections and Archives.
3. What resources, collections or materials from Special Collections & Archives were most impactful for your research?
The Stonewall Park Collection is in itself a "small monument to Fred and Alfred's dream" (direct quote from the archive). While writing the book, Out of the Neon Closet: Queer Community in the Silver State , Dennis McBride compiled all his findings on Stonewall Park and other pieces of collected ephemera from people who had been there. The resulting Stonewall Park Collection is a glimpse into the experiences of queer people at the time.
4. How did you become interested in the topic of Stonewall Park?
In Spring of 2019 I had just moved to Las Vegas after several years of mobility and circumstantial travel. I was seeking a queer future through my work, exploring themes of displacement, hope and utopia in regards to queer experience. I was looking for the transformative meaning of Home as a queer person in a heteronormative world. The story of Stonewall Park gave me significant historical context and precedence for these ideas. Creating this reformative monument to historicize their dream was an act of queer place-making.
5. What surprised you the most about your research in Special Collections & Archives?
The subtle, contextual details of the era. An ad for a Reno gay bar, during a time when these were secretized out of safety so they wouldn't be targeted by police or vigilantes, mainly consisted of a map of the building describing where to park and which unmarked door to enter. A regional newspaper condemned the attempted acquisition of Rhyolite by this group, while an adjacent headline boasted of a nearby atomic bomb test with no disdain. There was plenty of published hate speech in newspaper articles covering the Rhyolite story at the time, but my lack of surprise at these is due to the fact that I have already heard these kind of utterances in life as a queer person.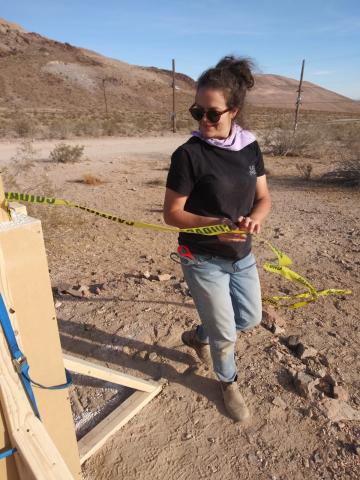 6. What advice would you give to other authors/researchers using Special Collections& Archives? (Otherwise known as what I wish someone had told me before I visited Special Collections & Archives.)
Keep an open mind, there are hidden gems everywhere.
7. How did your research in Special Collections &Archives change your perceptions about Las Vegas?
It makes the history of Las Vegas so much richer. While many specific discriminations are experienced among queer people nationally, these folks were dealing with issues specific to Nevada. Illegal sodomy (not repealed in NV until 1993) was enforced by brutal police arrests, harassment and job insecurity. The threat of felony charges challenged the livelihoods of those who worked in casinos, obviously a major industry in Nevada, causing many to remain closeted. Shedding light on these marginalized, hidden, and poignantly courageous experiences establishes a queer history of Nevada that is empowering to acknowledge and important to hold on to. What I learned from this project gave me a sense of personal ancestry I'd never felt so deeply connected to before.
8. What are you working on next?
My exploration of Queer Rhyolite is not finished yet. I am currently building collections of speculative artifacts in my sculptural practice to excavate and define an undiscovered queer future, while drawing from lost memories of the past.
More on the monument at: Memorial for a Queer Rhyolite - A Temporary Monument to Dreams in the Dust