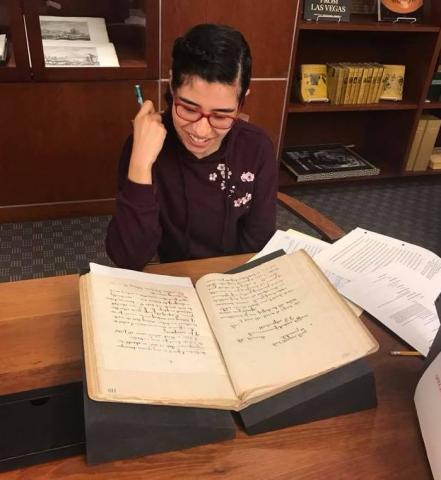 Our Researcher Profile series highlights researchers and who have used resources in Special Collections & Archives for a variety of projects ranging from articles and books to exhibits and documentaries and more.
This week's post focuses on the work of Maribel Estrada Calderón who received her undergraduate degree in U.S. history from UNLV in spring 2019. She was also a member of our Latinx Voices of Southern Nevada team. Calderón is currently a graduate student in the UNLV history program focusing on the North American West and Latin America.
1.Tell us a little bit about the project (book, exhibit, article, documentary, report) you researched in Special Collections & Archives.
As an undergraduate student of U.S. history, I visited Special Collections & Archives to research the history of Fort Mohave Industrial school. I wrote "Agriculture at Fort Mohave Industrial School, 1890-1893," a short historical narrative that is now published on the Intermountain Histories website.
2. How did you hear about Special Collections & Archives?
I learned about Special Collections & Archives through my history courses. My history professors frequently held their classes in the archives. There, Dr. Su Kim Chung taught my peers and I about the wide variety of primary sources that we could access to complete our research projects.
3. What resources, collections or materials from Special Collections & Archives were most impactful for your research?
To write about the ways in which the U.S. federal government attempted to forcibly assimilate Indigenous children into American society at Native American boarding schools, I examined the Fort Mojave Indian School Records. I used the official correspondence between the school's superintendent and the Commissioner of Indian Affairs to write the history of the school's agricultural program.
4. How did you become interested in the topic(s) you wrote about?
I became interested in the topic after learning about American settler colonialism and Indigenous Peoples' resistance and survival in the history class, "American Indian History Since 1851."
5. What surprised you the most about your research in Special Collections & Archives?
At first, the only way in which I could access these nineteenth-century records was by physically visiting Special Collections. Later, the staff digitized these documents, making them much more accessible to the public. This allowed me to read and transcribe official government correspondence from the comfort of my home.
6. What advice would you give to other authors/researchers using Special Collections & Archives? (Otherwise known as what I wish someone had told me before I visited Special Collections & Archives)
Before visiting the archives, quickly search for your topic on the UNLV Digital Collections Website. You may find that the Special Collections & Archives team has digitized what you are looking for!
7. What is the biggest challenge you faced while working on your project?
The ink on some of the letters is faded, so I had to place white computer paper under the original document to make the writing legible. I also spent a lot of time transcribing some of these letters onto my notebooks, so that I could easily read them the next time I had to reference them.
8. What are you working on next?
I am currently studying the history of labor in Las Vegas, Nevada. I am using interviews from the Latinx Voices Oral History Project to examine Latina participation in the 1991 Culinary Union Labor Strike at the Frontier Hotel and Casino.
9. What advice would you give other authors?
As I continue to study oral histories, I am finding that listening to the audio of any interview can make the research process more interesting than if one were to simply read a transcript of said audio. I would advise any writer using oral history transcripts to ask Special Collections for the interviewee's audio recordings. Listening to someone tell their own history is a unique experience.