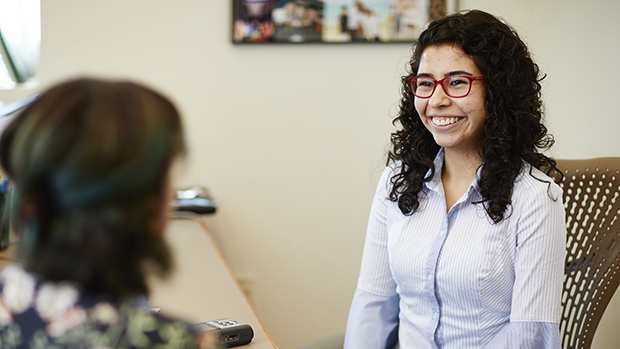 For UNLV senior Maribel Estrada Calderón, working on Latinx Voices of Southern Nevada in UNLV University Libraries' Special Collections and Archives has been an opportunity to connect with fellow students and learn from oral historians in the UNLV Oral History Research Center.
"I have learned so much from every single member of the team. Our distinct backgrounds and fields of study have helped us create a thorough set of questions and concepts that narrators could answer and discuss in their interviews," said Estrada Calderón. "Our different talents and skills allow us to efficiently plan, conduct, and process oral histories, and our enthusiasm for learning and recording the histories of the Latinx community encourages an increasing number of Latinx individuals to want to share their story with us and the greater Las Vegas Valley."
Latinx Voices of Southern Nevada is an oral history project aimed at collecting stories from the region's Latinx residents to add more of the Latinx experience to the historical record. The project has been funded by a grant from the National Endowment for the Humanities, as well as major support from MGM Resorts International, the Commission for the Las Vegas Centennial, Mark and Marianne Haley, and NV Energy.
Estrada Calderón is currently finishing her undergraduate degree is U.S. History with a minor in professional writing. Born and raised in Chihuahua, Mexico until the age of 7, her family immigrated to the U.S. and settled in the Las Vegas Valley in 2005. We sat down with the 2015 Rancho High School graduate to talk about her experience working on Latinx Voices and what she hopes future researchers will be able to gain from these stories.
Why did you want to be involved in the Latinx Voices of Southern Nevada project?
Latinos and Latinas have shaped the history of Las Vegas in many ways, yet oftentimes, we are not included in the historical narrative of the city. I wanted to be involved in the Latinx Voices project because I wanted to help record and preserve the stories of the Latinx community. These stories will serve as proof of the many contributions that Latinos and Latinas have made to Las Vegas. These histories will reveal that the Latinx community is composed of culturally diverse individuals from a plethora of different backgrounds. I wanted to make the voices and stories of all of these individuals accessible to researchers and the community.
Describe an a-ha moment that you have experienced—a nugget of a story and the lesson you learned from listening to the storyteller.
During an interview with Mariteresa Rivera-Rogers, she revealed that she worked for Clark County as a court interpreter before becoming a lawyer. For years, she helped Spanish-speaking individuals communicate with court officials and vice versa. In a society where some individuals frequently look down upon those who speak Spanish or another language other than English, Ms. Rivera-Rogers' story demonstrates that speaking more than one language is of great value.
How do you imagine future researchers, educators and curious people will use the Latinx Voices project?
I hope that future researchers, educators, and curious individuals will use Latinx Voices to construct a thorough history of Latinos and Latinas in Las Vegas. I imagine that many of these histories will be used in research projects and lesson plans regarding the gaming, hospitality, and marketing industries because many of the narrators have been involved in these industries at some point in their lives. I am more than confident that curious individuals who are related or acquainted with the narrators will use the project to simply remember the narrators' histories.
Describe what you see as the benefits to the Las Vegas community that this project provides.
These histories are not only the histories of people. They are the stories of restaurants, casinos, schools, banks, and many other establishments in Las Vegas. These histories reveal many of the reasons why Las Vegas is the way it is today. The Latinx community has played a major role in the development of the city, and while doing so, it has interacted with the many other communities of Las Vegas. The narrators of this project bring forth many other voices from outside the community.
What is something you didn't realize before working on Latinx Voices?
Before working on this project, I had not realized how supportive Latinx leaders were and are of one another's initiatives, projects, and businesses. During interviews, many narrators have mentioned how previous or future narrators helped them achieve their goals. Latinx leaders from different nationalities and backgrounds constantly work together to provide educational, professional, and even economic development opportunities to the Las Vegas Latinx community.
How has working on the Latinx project changed you thus far?
Besides learning how to be a better listener, how to conduct oral history interviews, and how to transcribe interviews, this project has made me realize these is always something that I can do to give back to my community. Every individual that I have interviewed has stressed the importance of standing up for marginalized groups and communities, giving back to the community where we grew up, and serving the community where we currently live.