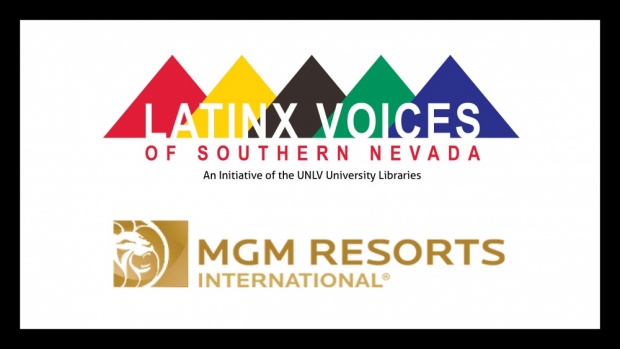 MGM Resorts International has announced that it has pledged an additional $25,000 to support the UNLV University Libraries' Latinx Voices of Southern Nevada project.
"Through this gift, MGM Resorts is helping us in our efforts to add more diverse voices and stories to Southern Nevada's historical record," said Maggie Farrell, Dean of the UNLV University Libraries. "They are also providing opportunities for UNLV students working on the project to learn more about their own cultural heritage while collecting and translating oral histories."
The National Endowment for the Humanities awarded UNLV University Libraries with a $100,000 Challenge Grant in late 2017, with a requirement to raise an additional $100,000 from the community to fund the first two years of the projects. MGM Resorts was the first to step forward with an original $25,0000 gift in 2018, bringing the organization's total gift to the project to $50,000.
"At MGM Resorts, we are honored to be a founding sponsor of this inspiring initiative for the Latinx community and to support the students at UNLV who are working on this project," said Tony Gladney, the company's Vice President of Community Engagement. "We will continue to work together to promote the importance of cultural histories for all future generations to come."
Officially launched in September 2018, the Latinx Voices of Southern Nevada has collected more than 90 oral histories from Latinx residents during its first year and raised nearly $240,000 in funding.
"I am so grateful to all of the people and organizations that understand the importance of this project," said Elsa Lopez, one of the UNLV students working on the project. "It is especially meaningful to know that Latinx Voices is a product of my community and is funded largely by local organizations and individuals. When companies like MGM invest in the preservation and education of our history, it shows the Latinx community that we are supported and appreciated. Through MGM's donations, my teammates and I are able to collect amazing interviews that will enrich the narrative of Southern Nevada."
Seven UNLV students were hired to collect oral histories during the first year of the project. Working under the direction of Claytee White, Director of the UNLV Oral History Research Center, and Project Coordinator Barbara Tabach, these students have identified and conducted oral history interviews in both English and Spanish in an effort to promote intergenerational dialogue about experiences living and working in Las Vegas and Southern Nevada. The students working on the project in the first year include Lopez, Monserrath Hernandez, Laurents Bañuelos-Benitez, Maribel Estrada Calderón, Nathalie Martinez, Marcela Rodriguez-Campo, and Rodrigo Vazquez.
"Working on Latinx Voices has taught me so much about myself and the community I grew up living in," said Hernandez, a UNLV graduate student. "The people I've met and the stories I've heard have helped me reconnect and define my identity as a person of color in academia. I've always known that I was different, but my experiences with the project helped me connect with other people like me and reinforced the idea that representation matters. To meet successful people that come from the same background as me is an amazing feeling and something unusual, that's why it's been a great privilege to work on this project."
As part of the project, University Libraries is hosting a series of community events to share stories collected during the project and showcase the students' experiences working on the project. The first event, focusing on the business community, was hosted in April at the Las Vegas Latin Chamber of Commerce. A second event is planned for October as part of UNLV's Research Week.
"I have learned so much about communication and empathy, and because I am studying to be an elementary teacher, both of these are skills I can carry with me into the classroom," said Lopez. "An effective teacher is one that works with their community. Thanks to donations from MGM and others, Latinx Voices has allowed me to understand the values of our Latinx community, and because CCSD students are by some estimates 46 percent Latinx, I am so thankful to be directly involved in this kind of work."
Find more information on how to support Latinx Voices of Southern Nevada.