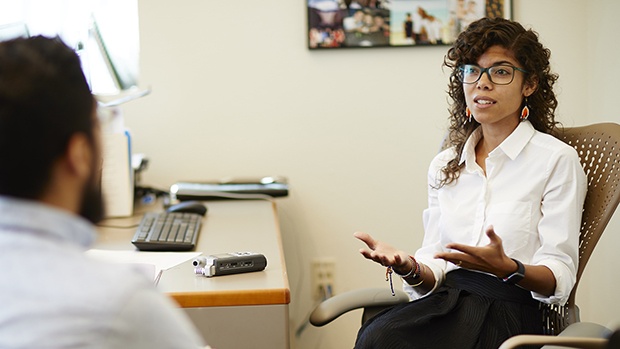 As the Latinx Voices of Southern Nevada project gets underway, this series highlights the UNLV students who are working as oral historians on this UNLV University Libraries Special Collections & Archives project.
Born in Cali, Colombia, Marcela Rodriguez-Campo and her family immigrated to the United States when she was five years old. Attending elementary and middle school in Florida, Rodriguez-Campo moved to Las Vegas at the start of high school in 2008. After completing an undergraduate degree at Washington State University, she returned to Las Vegas to serve as a public school teacher, specializing in teaching secondary English and coaching Speech and Debate. After earning a master's degree in Education while still working in the classroom full-time, she left teaching to start work on doctoral degree in Multicultural Education.
Now in the second-year of her doctoral program at UNLV, Rodriguez-Campo is the senior-most student working on the Latinx Voices of Southern Nevada project in the Oral History Research Center at UNLV University Libraries Special Collections & Archives. Rodriguez-Campo, who identifies as a Colombiana, a Latina, and a dual citizen, joined the project to help elevate the voices and experiences of Latinx people in our region's historical record.
We asked her to share more about her experiences, what she has learned so far, and what she hopes other people will take away from Latinx Voices of Southern Nevada.
Why did you want to be involved in the Latinx Voices Project?
I wanted to be involved in the Latinx Voices project because I am passionate about elevating the voices and experiences of Latinx people. Through my work as a public school teacher and as a poeta, I regularly witnessed the power, beauty, and resiliency that Latinx people embody, but that far too often is marginalized in our society.
Describe an a-ha moment that you have experienced—a nugget of a story and the lesson you learned from listening to the storyteller.
Recently we were able to interview Hernando Amaya, a Colombian journalist who was the news correspondent for the President's Palace and reported on the narco terrorism in Colombia during the time of Pablo Escobar. For me, as a Colombiana whose family immigrated to the U.S. because of the cartel violence, hearing his account was such an affirming and validating experience. He was able to provide the voice of the Colombian people, which is often left out in the larger conversation about narco terrorism and glamorizes cartel violence.
How do you imagine future researchers, educators and curious people will use the Latinx Voices project?
My hope is that future researchers will be able to understand the historical context of how Latinx peoples arrived in the U.S. and why they are here. A lot of misconceptions and assumptions exist about who Latinx people are and many of these negative stereotypes are used to inform public policy which harms Latinx communities.
Describe what you see as the benefits to the Las Vegas community that this project provides.
For the Las Vegas community, it is particularly significant that we document the experiences and contributions of Latinx people. Latinx people are a large proportion of the community and have played a huge role in the social and economical development of the city, but their voices are largely invisible in the historical account of the development of Las Vegas. The oral history project allows us to bring visibility to Latinx people, their histories, and experiences.
What is something you didn't realize before working on this project?
I honestly didn't realize that Latinx people had such a permanence in the city's history. We have been here since its founding. We have been active politically, socially, and economically in its design and creation, yet younger generations aren't exposed to this history either. We are made to think that Latinx people are new arrivals, that we somehow are not from here, yet our people are very much a part of the fabric of Las Vegas. Through this project we can make it more widely known and accessible that Latinx people have built this city.
Personal development: how has working on the Latinx project changed you thus far?
Working on the Latinx Voices project has been incredibly inspirational and empowering for me as a Latina to see the profound impact that Latinx people have had in Las Vegas and in the world. Truly, it's been an honor to get to meet such incredible Latinx leaders, businesspeople, and organizers that have worked so hard to create a better life for our community.
If you could conduct your Dream Interview, who would it be with and why?
I would interview either Luis Carlos Galan, who was a Colombian presidential candidate in the 1980s, or Gabriel Garcia Marquez, the Nobel Peace Prize-winning magical realism writer. Since I left Colombia at such a young age, their writing helped me learn more about my country and keep my connection to my homeland alive.