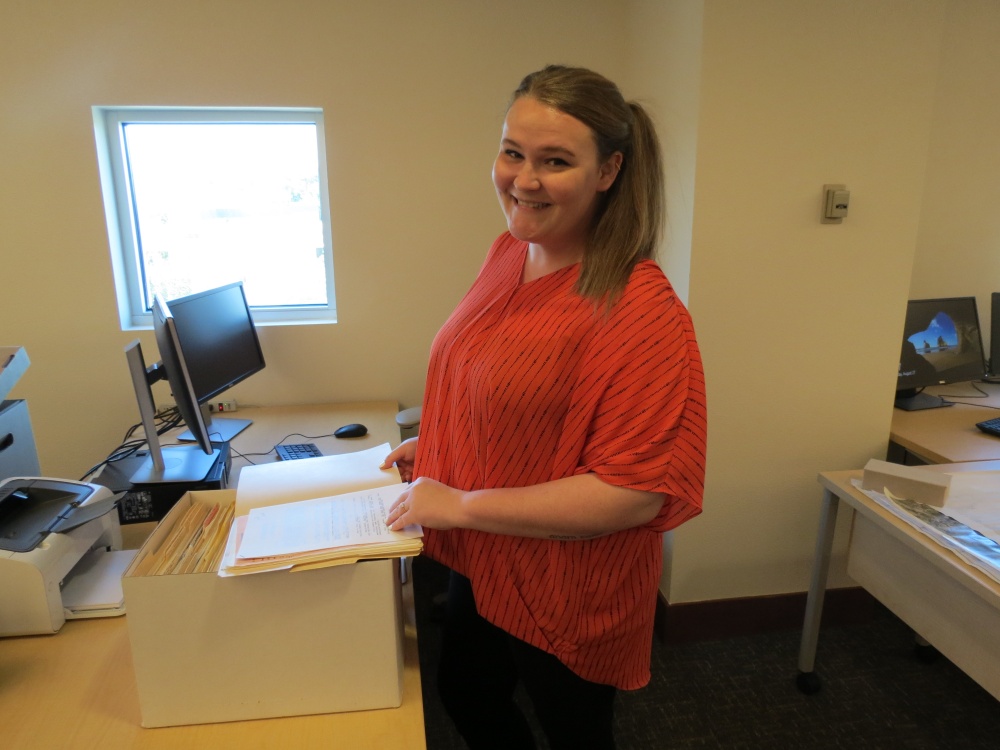 UNLV Libraries Special Collections & Archives Visiting Technical Services Librarian Sarah Jones
In our Secrets from Special Collections series, UNLV Libraries Special Collections and Archives staff members divulge what they consider to be the hidden gems of the library, sharing answers, based on their own experiences, to six intriguing questions. Here, Visiting Special Collections & Archives Technical Services Librarian Sarah Jones gives us a glimpse into life working among the rare treasures of the library.
1. When you first began working in Special Collections and Archives, what was the one item or collection that made your jaw drop, and why? Describe.
I began working in Special Collections on the LSTA Entertainment Grant Project, and as a part of that, we digitized three entire entertainment collections. When I began digitizing the Jerry Jackson Papers, I opened up the first box and was stunned (in a good way) and knew that I had so much to look forward to working here in Special Collections. The collection is full of hand-drawn costume sketches, including fabric swatches and photographs of showgirls and dancers wearing the final designs. The other two collections, the Donn Arden Papers and the Sands Hotel Public Relations Records, were also incredibly interesting and a great insight into the entertainment industry here in Las Vegas in the early 1950s and 1960s.
2. What do you think may be the single most overlooked part of Special Collections and Archives?
The amount of work that goes into processing, preserving, and continually caring for the collection material. The Technical Services team works behind the scenes to make collection material accessible – and it is not always easy!
3. What is the one question you are most asked about your work, or elements that fall within the scope of your job description?
One question I am asked frequently is, "So you work with all really old stuff, right?" Yes, but also, no. Explaining the variety of materials that we have in Special Collections and Archives and then how I interact with them on a daily basis is usually where I start when talking about my job.
4. What is the most fascinating or positive aspect of your job? In answering, describe a little about what you do on a daily basis. What is the most difficult aspect of your work? Describe.
I really enjoy that I get to work with collections every day, and know that my work means more collections are available in the future for patrons and researchers. Since my job is to oversee the Backlog Elimination Project, I do a little bit of everything all day and get to work with a wide variety of people. A lot of my work is managing individual projects, training interns and new staff, and meeting deadlines – which can be difficult, but I enjoy the challenge!
5. What are you working on right now? How will it contribute to Special Collections and Archives?
Right now, I am working with a team of archival assistants on the Backlog Elimination Project to physically process our collections and make finding aids available online. Specifically, one of our large projects right now is the UNLV Photo Services collection, which contains all of the photographs and negatives taken by the University's Creative Services department. Materials in this collection are requested frequently but has not been easily accessible, so it is exciting to be working on making that happen.
6. What advice would you give students seeking to isolate a topic in Special Collections and Archives using primary source materials?
Start by browsing our Special Collections database, online finding aids and digital objects found in the Special Collections and Archives Portal for a collection or topic that interests you. We have a really wide collecting scope (mining, gaming, entertainment, early Nevada, etc.) so it is not hard to find something interesting! I also encourage students to stop by Special Collections in person and consult with whoever is working the reference desk. Everyone working here wants students to understand how they can successfully navigate Special Collections and use primary sources – so please stop by soon!