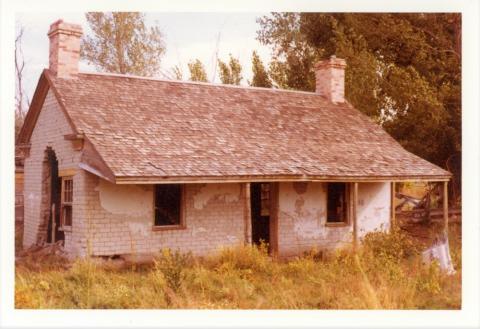 The Mary Etta Syphus family home in Panaca, Nevada, where the packet of letters were found hidden in a wall years after the house had been abandoned. Photo taken approximately 1973. (MS-00169)
Love letters seem like an appropriate offering for Valentine's Day, and we hope you enjoy this story from our colleague Angela Moor. A Ph.D. candidate in the UNLV History Department, Moor works part-time as a member of our archival processing team, and that is where she first encountered this poignant collection of Syphus-Bunker correspondence.
The Syphus-Bunker Papers (MS-00169) were processed and described by John A. Heldt in January. The collection contains correspondence between Mary Etta Syphus and John Mathison Bunker and provides an intimate look at their growing romance. In addition to their relationship, their letters offer details about life in Southern Nevada in the early- to mid-1890s. They describe the ups and downs of the communities of Panaca, St. Thomas, and Bunkerville, Nevada including marriages, illness, births, and deaths, as well as the importance of the Mormon Church in these communities.
Mary Etta Syphus grew up in Panaca and John Mathieson Bunker in Bunkerville separated by approximately 160 miles. Mary Etta Syphus was born in 1871 to Luke and Christiana Syphus, converts to the Church of Jesus Christ of Latter-day Saints who left their native England to move to Utah and later settled the community of Panaca, Nevada. Mary taught school in Panaca, having received her teaching certificate in 1889 and attended the Brigham Young Academy Church Normal Training School.
John Mathison Bunker was born in 1870 to Edward Bunker and his third wife, Mary McQuarrie. The family lived in Bunkerville and St. Thomas, Nevada. John Mathison Bunker worked in the mines and ferry business in El Dorado Canyon on the Colorado River. He later attended the Agricultural of College of Utah (now Utah State University) in Logan, Utah.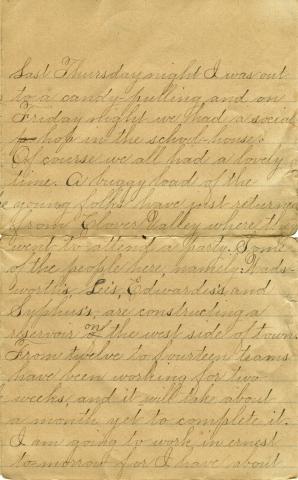 Mary Etta Syphus to John Mathison Bunker January 18, 1891. Their early correspondence focused on descriptions of their daily life, in this letter Mary tells John she attended a candy-pulling and social hop. (MS-00169)
The couple began corresponding in 1891. In early letters, Mary Etta Syphus described her activities in Panaca. She wrote about social gatherings and events and her experiences teaching school. John Mathison Bunker described his work in El Dorado Canyon. Their letters often had a jovial nature as she ribbed him for not writing sooner and he joked about his poor handwriting and lack of formal education.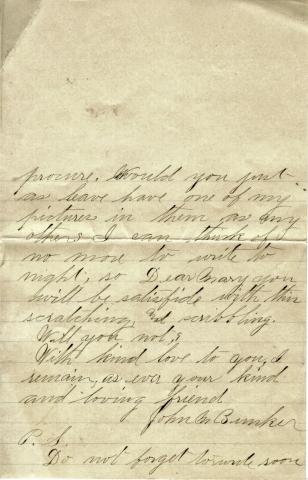 Letter from John Mathison Bunker to Mary Syphus sated October 23, 1892. John apologizes for his "scratching and scribbling" and encourages Mary to "not forget to write soon." (MS-00169)
By 1894, the couple became more open about their feelings for one another, but remained secretive to others. Mary wrote to John about her letter "going the rounds" and his mother reading it. In late summer 1894, John made a trip to visit Mary in Panaca. Following the visit, she wrote him and described her sadness after he left. Their letters grew more affectionate throughout 1894 and 1895. Mary began making plans to wed John in the St. George, Utah temple.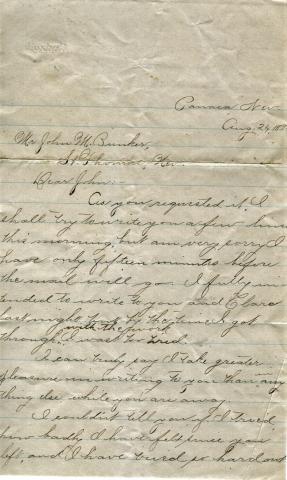 Letter from Mary Etta Syphus to John M. Bunker dated August 24, 1894. She tells him that she takes "greater pleasure in writing" him than anything else and how badly she has felt since he left. (MS-00169)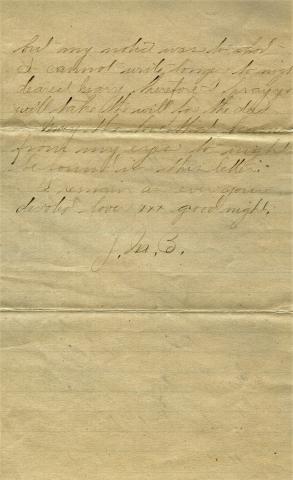 Letter from John M. Bunker to Mary Syphus dated September 27, 1894. His closing illustrates how close their relationship had become as he signs off, "I remain as ever your devoted love. xxx. Good night." (MS-00169)
After corresponding for four years, the couple finally married on John's birthday September 12, 1895. Tragically, Mary soon grew ill and she died in St. Thomas, Nevada on November 30, 1895 less than three months after their wedding. John Mathison Bunker went on to serve a mission for the Mormon Church to the southern states of the United States in 1896, and later married Eloise Turnbaugh in 1906.
The letters between Mary Etta Syphus and John Mathison Bunker illustrate the challenges of young love during the pre-telephone era as they anxiously awaited letters from each other and visits required extensive planning and expense. According to family members, their letters were found in Mary Syphus' family home in Panaca, years after it had been abandoned, tied together with string where they had been hidden in the wall years earlier.