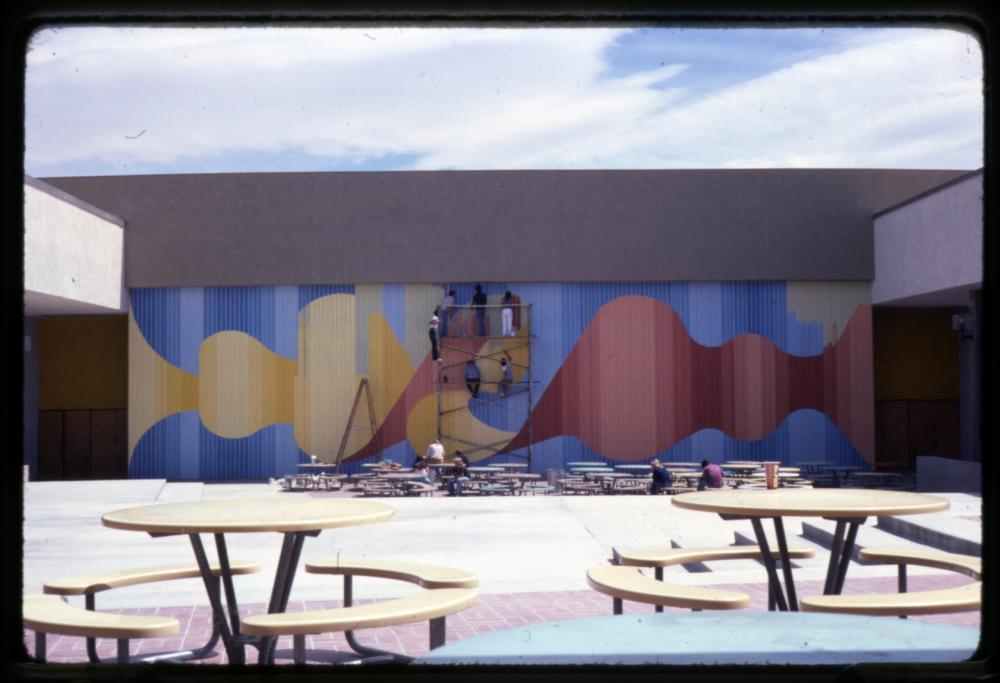 Over the summer I've been lucky enough to work on the Robert Beckmann Photographs (PH-00381), which consist of photographs and slides of artist Robert Beckmann's paintings, murals, and art installations. Mr. Beckmann, who has won numerous awards for his art, including the Governor's Arts Award for Excellence in the Arts from the state of Nevada as well as fellowships from the Western States Arts Foundation and the Nevada State Council on the Arts, donated thousands of slides and photographs of his work to Special Collections this month. I was assigned to organize, inventory, and write the finding aid for his donation. During my work, I discovered both the complexity and diversity of projects Mr. Beckmann has accomplished over a career that has spanned more than four decades. For example, I saw images of the series of murals Mr. Beckmann painted in Washington D.C. from 2002 to 2005 that were commissioned by the Architect of the Capitol for the US Botanic Garden. I also inventoried a series of slides on murals Mr. Beckmann painted on various buildings around Las Vegas, including the Mirage Hotel and Casino, the Nevada Heritage Museum, the Nevada Institute for Contemporary Art, the Bellagio Hotel and Casino, and Bonanza High School.
My favorite part of working with the Robert Beckmann Photographs has certainly been seeing Mr. Beckmann's process. There are several series of photographs that include what a building or wall would look like before Mr. Beckmann painted it, then several shots of him working and the mural progressing, and finally the completed work. To me, these kinds of photographs underscore the importance of archival work because they provide the context and setting for works of art that seem to uniquely blend into the background of daily life. Perhaps that is inherent to murals: they occupy walls and spaces where art doesn't usually make itself apparent. Understanding the way an artist transforms a space provides an additional dimension to a mural's significance, and that's why I've become so enamored with the Robert Beckmann Photographs (PH-00381).
Lindsay Oden is a graduate student with the UNLV History Department and a 2014 summer intern with the University Libraries Special Collections Division.
Mural painting at Bonanza High School, Las Vegas, Nevada, 1970s

Mural painting at Bonanza High School, Las Vegas, Nevada, 1970s

Mural painting at Bonanza High School, Las Vegas, Nevada, 1970s

Mural painting at Bonanza High School, Las Vegas, Nevada, 1970s

Mural painting at Bonanza High School, Las Vegas, Nevada, 1970s

Mural painting at Bonanza High School, Las Vegas, Nevada, 1970s

Lindsay Oden reviewing Robert Beckmann's slides