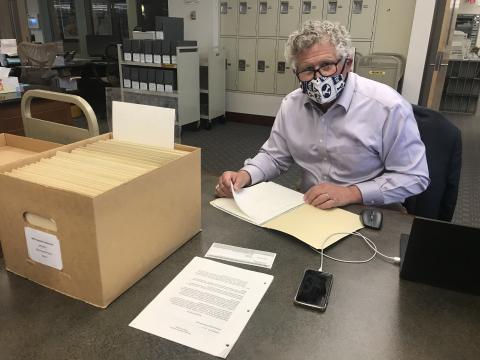 We are pleased to welcome our first Eadington Fellow of 2021, Dr. Fred Woods who has served as a Professor of Religious Education at Brigham Young University since 1998. From 2005 to 2010, he held a Richard L. Evans Professorship of Religious Understanding and was appointed in 2019 to a BYU endowed Moral Education Professorship. He is also a Senior Associate of Pembroke College, University of Oxford.
Dr. Woods is the author of several books and numerous articles. He is best known for his works on the globalization of the Church of Jesus Christ of Latter-day Saints, which includes his specialized research on the maritime segment of the story of the Latter-day Saint gathering to an American Zion—the sailing before the trail portion of Mormon immigration to the United States. In spring 2017 and spring 2018, he was a research fellow at the Harris Manchester College at Oxford University for the Trinity Trimesters, where he was immersed in a study of the Latter-day Saint image in the British mind, a forthcoming book and documentary.
His previous research on Las Vegas includes the book Gamble in the Desert: The Mormon Mission in Las Vegas (1855–1857). During his Eadington Fellow residency, Dr. Woods will be examining books, manuscripts, oral histories, and photographs for his current research on the history of the Latter-day Saints and their influence in Las Vegas.
As part of his Eadington Fellowship, Dr. Woods will present a virtual lecture "Bright Lights in the Desert: The Latter-day Saints of Las Vegas" on February 2 at 3pm.
The Eadington Fellowships program, sponsored by the Center for Gaming Research in Special Collections & Archives, funds scholarly research into our collections on gaming and Las Vegas. Fellows conduct research, present a public talk, and write a brief paper that becomes part of the Center's Occasional Papers series. Application information, as well as links to podcasts of the public talks and the papers can be found on the Center for Gaming Research web site.