"The success of this campaign against influenza depends upon your co-operation." - Las Vegas Age, Nov. 9, 1918
Peter Michel, PhD., Curator of Collections and Interim Director, Special Collections & Archives with a historical perspective on the Spanish Flu pandemic in Nevada drawn from issues of the Las Vegas Age in our Digital Collections.
When we hear that the COVID 19 pandemic and its social impact are unprecedented, that is not actually true. I have taken the opportunity of working from home to use our online Nevada newspapers, available on the Library of Congress Chronicling America website to research the Spanish Influenza Epidemic of 1918/1919 in Nevada. The so-called Spanish Influenza, which did not originate in Spain -- it was only reported more truthfully there given that country's lack of wartime censorship -- swept the world in the final months of the World War I and into early 1919, killing more people in six months than died as casualties in four years of the most horrific war the world had ever witnessed. (The Spanish Flu was far deadlier than COVID 19.) The hardest hit cities in the United States were Philadelphia, Boston, Chicago and San Francisco, all near overcrowded army camps and naval bases which were the hotspots of infection. But as it crossed the nation it hit rural areas, small towns, isolated ranches and Indian reservations.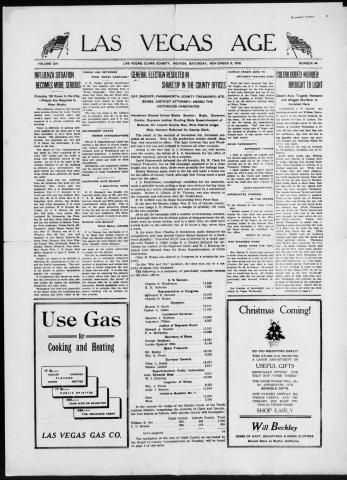 In Nevada it struck Carson City and Reno first, probably by way of San Francisco, in October of 1918 then spreading east and south into the rural counties. By the end of November and beginning of December, the epidemic had mostly run its course, reemerging in a much milder form in January and February of 1919. The responses to the epidemic were eerily similar to what we are experiencing now: all public gatherings banned, schools, churches, "places of amusement", saloons, theaters, movie houses, dance halls, closed; the wearing of face masks mandated, entire towns and cities quarantined, mines shut down, trains stopped at the state line for "screening", entire families struck down, shortages of doctors, nurses and medical supplies; people told to stay home; people ignoring or defying public health warnings and restrictions; Ineffectual government response; the medical establishment baffled and overwhelmed.
The Las Vegas Age, on November 9, 1918 published an open letter from Dr. Roy W. Martin, the Clark County Health Officer, "How you can help the Health Department control the Influenza". "We are in the midst of an influenza epidemic which has been sweeping the country for several weeks. It must be controlled or a great loss of life will result. The public must cooperate and observe the regulations of the Health Department or little will be accomplished. If you do your duty you will have but littler to fear. See to it that the following regulations are observed to the letter." There follows a list of do's and don'ts now very familiar to us. "Assist in preventing gatherings and crowds. Insist on isolation of people with symptoms of influenza. Demand that all people who care for influenza cases wear masks. Save all possible energy, thus avoiding fatigue, save energies for necessaries. Brush your teeth, gargle you throat, and spray your nose with antiseptic solution. Remember that people can carry influenza for several days after they think they are well. Do not stand close to or directly in front of one while talking. We respectfully urge every person to wear a mask as required by the order of the City Commissioners." Martin concludes, "The success of this campaign against influenza depends upon your co-operation. Intelligent people will – others must cooperate. We ask your assistance in enforcing the regulations." The front page of this issue reported that "the influenza situation becomes more serious" with a probable 125 cases in the City, and 12 deaths in the past week. City officials were arranging temporary hospital facilities, including the high school.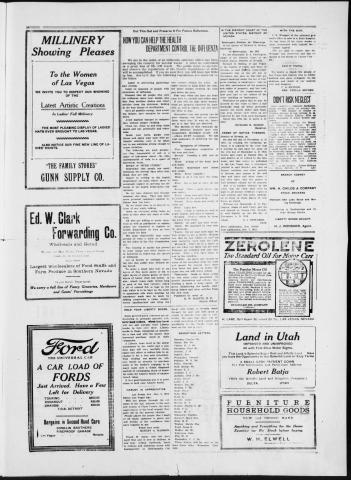 And how did that story end? The pandemic passed, life returned to normal, and it pretty much disappeared from our collective memory. Like today, on a local level it was a story of resilience; neighbors helping neighbors, a heroic response by overworked doctors and nurses, communities working together to safeguard themselves, people caring for their families and for others. It is our story too, and should give us hope.