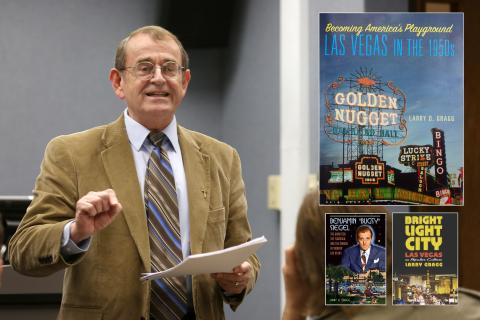 This inaugural post in our Researcher Profile series will highlight researchers and who have used resources in Special Collections & Archives for a variety of projects ranging from articles and books to exhibits and documentaries and more.
This post focuses on the work of long-time Special Collections patron Dr. Larry Gragg, who spent over 40 years as a history professor at Missouri University of Science and Technology before retiring in 2018.
Tell us a little bit about the project (book, exhibit, article, documentary, report) you researched in Special Collections & Archives.
I did most of the research for my book Becoming America's Playground: Las Vegas in the 1950s (2019) at Special Collections. This is a book about the pivotal decade in the history of Las Vegas when the chamber of commerce and hotel publicists successfully promoted the southern Nevada community as a national tourism destination increasing the number of tourists nearly ten-fold in a decade.
How did you hear about Special Collections & Archives?
I began researching the history of Las Vegas in 2003 and first learned about Special Collections from bibliographies of books on Las Vegas history.
What resources, collections or materials from Special Collections & Archives were most impactful for your research?
The Las Vegas Chamber of Commerce collection was indispensable to my research, but the Las Vegas City Commission Minutes, the Union Pacific Railroad Collection, the Sands Hotel Collection, and the Perry Kaufman Papers were also important.
How did you become interested in the topic(s) you wrote about?
I became interested in this topic in my research for two previous books: Bright Light City: Las Vegas in Popular Culture (2013) and Benjamin "Bugsy" Siegel: The Gangster, the Flamingo, and the Making of Modern Las Vegas (2015).
What surprised you the most about your research in Special Collections & Archives?
The most pleasant surprise is the rapid digitization program that Special Collections has undertaken. Two of my key sources—the Las Vegas City Commission Minutes and the Sands Hotel Collection—are now available online. Those collections join a growing number of other key sources that are online, notably the African-American Experience in Las Vegas.
What advice would you give to other authors/researchers using Special Collections & Archives?
I would urge researchers to exploit what is available online first. That will make your time physically at Special Collections more successful.
How did your research in Special Collections & Archives change your perceptions about Las Vegas?
My research has changed my mind substantially over the sixteen years I have been doing research there. I have come to appreciate the elements of life in Las Vegas beyond the resort hotel corridor. It has been a city that has struggled to build a community with a comprehensive net of social services while maintaining its libertarian beliefs.
What are you working on next?
I am currently working on two projects. The first will be on the people who built Las Vegas, who made it a full-fledged community between 1905 and 1955. The second is a study of a gangster named Moe Sedway who was important in the development of casinos and the race wire service between 1940 and 1952.
If you are from out of town, what other places did you visit (could be other sites for research, restaurants, etc.)
The Nevada State Museum is another good place for research. They have many collections that nicely complement those at UNLV.
What is the biggest challenge you faced while working on your project?
Initially, my biggest challenge was dealing with the plethora of great collections to draw upon. However, the finding aids and inventories are immensely helpful.
What advice would you give other authors?
Be prepared to encounter a knowledgeable and welcoming staff. I have always felt appreciated as a patron at Special Collections.