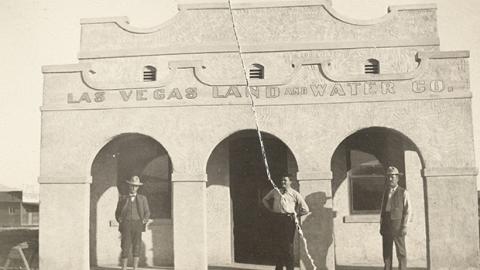 The Digital Collections department in UNLV University Libraries Special Collections & Archives has completed work on a grant-funded project to digitize documents related to water resources from the Union Pacific Railroad Collection.
"The founding and growth of Las Vegas as a major metropolitan area is due to the railroad industry, specifically the Union Pacific Railroad," said Cory Lampert, head of UNLV Digital Collections. "Given the vital issue of water resources management, we prioritized the digitization of these specific water-related files from the UPR Collection."
The project, funded by a grant from the Library Services and Technology Act administered by the Nevada State Library and Archives, resulted in the digitization of 55,000 pages of records.
These digitized records include technical reports, correspondence, Board of Directors minutes, information regarding easements, right of way, rooming houses owned by UPR, water sources, water conservation efforts, construction of water mains, and maps.
The Union Pacific Railroad Collection (MS-00397) spans the years 1828-1986 and provides valuable insight into the creation and expansion of Las Vegas. From the earlier part of the 20th century, water and issues of sustainability were of paramount concern to the railroad, which created the Las Vegas Land and Water Company to develop and coordinate the city's water system. In doing so, they set the stage for future water conservation efforts.
"This project has created a digital resource for documenting the unique role of water resource management in Southern Nevada," said Peter Michel, director of UNLV University Libraries Special Collections and Archives. "These records will be important for researchers and city planners as we continue to examine ways to protect one of the most scarce resources in our region, water."
UNLV holds the most complete set of records from the Las Vegas Land & Water Company from 1902 to 1954, as part of the UPR Collection. This year, the Water District donated the Las Vegas Land & Water Company Records (MS-00912) to Special Collections & Archives, with 3,181 pages digitized as part of the project.
Work on the project was completed by Project Manager Gayle O'Hara, UNLV alumna Cindi Mercado, who graduated in May, and Student Assistant Tierre Cabbell. Digital Special Collections Librarian Emily Lapworth and Lampert served as co-principal investigators on the grant.
To search the records online, visit the UNLV Digital Collections website and check out this story map created by O'Hara to learn more details about the Union Pacific Railroad's impact on water resources in Las Vegas.