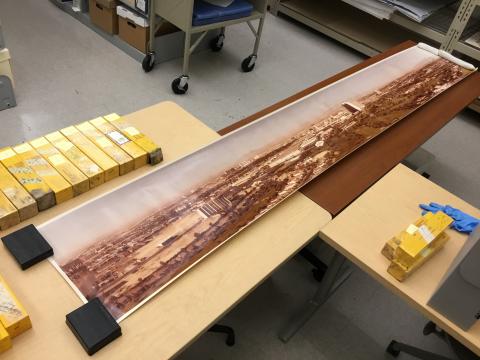 Amy Check received her BA in Psychology from UNLV in 2016. She has worked in Digital Collections since 2013, first as a student assistant, before transitioning to a staff position in 2017. Her previous work includes the National Digital Newspaper Project and the Southern Nevada Jewish Heritage Project.

Sweeping panoramas. A rotating Cirkut camera. Las Vegas before its population boom. These topics are just some of the interesting components that make up the UNLV Special Collections and Archives Robert Paluzzi Panoramic Photograph Digitization Project. The Paluzzi Digitization Project officially began this past October, and is a six-month grant initiative funded generously by The Gladys Krieble Delmas Foundation to physically arrange and rehouse the Robert Paluzzi Panoramic Photograph Collection (PH-00414), digitize the original negatives and select prints, create descriptive metadata, and make the images publicly accessible online.
This photograph collection is composed of hundreds of prints and negatives taken by Robert "Bob" Paluzzi from the late 1970s through the early 2000s. As is common with many things found in Las Vegas, the Paluzzi Collection goes big! Perhaps most remarkable is the length of its materials; this collection has items that span as long as the eye can see (if by "eye can see," you mean roughly the length of a table, of course). It is not uncommon to come across photographs 4, 6, or even 8 feet long!
Not only is the collection an interesting one, but the man behind the camera was a fascinating photographer as well. Robert Paluzzi (1920 - 2006) was a former Las Vegan who was known for his panoramic photography. A World War II veteran, Paluzzi moved to Las Vegas during the early 1960s and worked at Caesars Palace as a sales executive for over twenty years. His time in the valley gave him a unique opportunity to capture the city's rapid population growth and physical expansion during the late 20th century. As a result, his work provides special glimpses into an older Las Vegas frozen in time.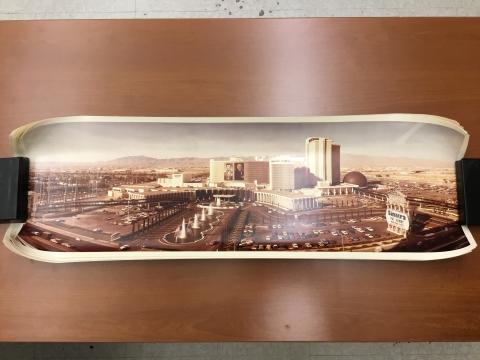 Paluzzi did not limit himself when it came to the contents of his photography, as most of his work spanned across many subjects and places. A big fan of sports, he captured action shots ranging from UNLV basketball games to fan-packed Super Bowl stadiums. Interested in car shows or union gatherings? There are photographs of those as well! Furthermore, Paluzzi was also an extensive traveler, bringing his camera with him to many different places across the world. Expansive shots of locations such as Niagara Falls and the Louvre in Paris, France can be seen in his body of work.
The camera of choice Paluzzi used to take all of these impressive panoramic photographs? The Cirkut rotating panoramic camera! Popular in the first half of the twentieth century, the Cirkut camera has a rotating base with a film back that allows a roll of film to move with the camera, hence the oversized negatives it creates. Over time, the Cirkut camera eventually fell out of popularity. Because Paluzzi continued to use this camera throughout the latter half of the twentieth century, his photographs are considered especially unique.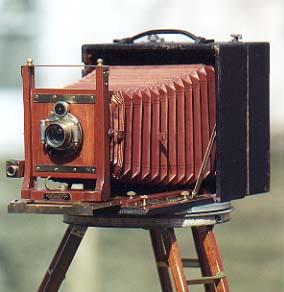 Over time, Paluzzi captured hundreds of images that were generously donated by his children to UNLV Special Collections and Archives and now make up the Robert Paluzzi Panoramic Photograph Collection (PH-00414). I work as the Project Archivist on the grant and have been busy comparing panoramic negatives to their corresponding photographic prints. This step is crucial in identifying which negatives have a corresponding photograph so duplicates are not scanned during the digitization process. While it has been a bit of a challenge to unravel and sort each roll, I have found this process to be very entertaining - you never know what you're going to unwrap! My favorite surprise find so far has been a photograph of the 3rd Annual Delorean Owners Association gathering at Bonnie Springs in 1986.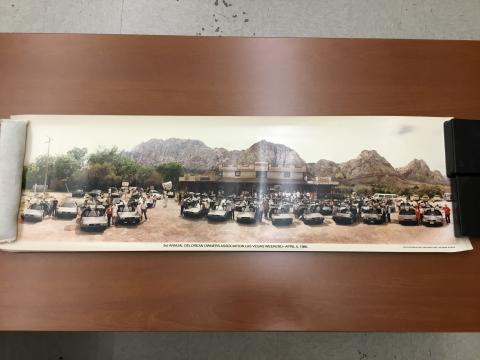 Currently, there are twenty-two archival boxes of negatives that are being sorted. If things go according to plan, the scanning process should begin by early 2021. Stay tuned for a future update. In the meantime, enjoy some additional photos of the organization process below!