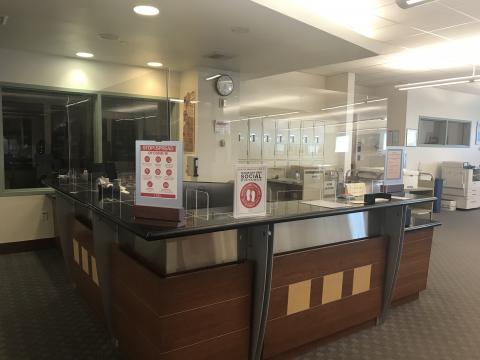 Because we have limited staff and student workers to manage the reference desk and pull materials, Special Collections & Archives will have limited access. We are open for NSHE/UNLV users Monday 9:00 am-1:00 pm and Wednesday 1:00-5:00 pm. For all other users and hours, please make an appointment (via phone at 702-895-2234 or email at special.collections@unlv.edu) to view materials.
NSHE/UNLV user hours
Monday 9:00 am-1:00 pm
Wednesday 1:00-5:00 pm
Hours available for appointments
Monday - Friday
9:00 am - 5:00 pm
Make an appointment by calling or emailing
702-895-2234
special.collections@unlv.edu
We ask that you provide as much detail as possible about the collection material and books you would like to view when you make your appointment (for example: include collection name, box numbers, links to titles and/or call numbers of books).
Please note that all visitors are required to wear masks, and our reading room will be limited to six patrons total at any time, with one person per table, and one guest if they have one. Patrons will only be allowed in the outer reading room. Non-UNLV affiliated visitors will need to be escorted to and from the main library entrance to Special Collections & Archives on the 3rd floor by library staff.
If we have sufficient staff and tables available, we will accommodate same day appointments if patons call the SCA reference desk, however, we cannot accommodate requests for materials held in LASR without 24 hours notice. As all materials will be quarantined for four days after use, some materials may not be available when you visit, so please call ahead to check.