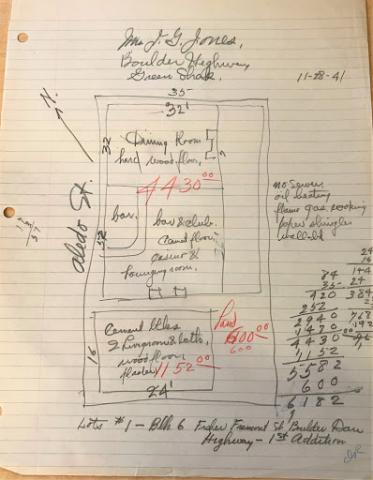 Green Shack appraisal document from the Elmo C Bruner Architectural and Real Estate Appraisal Records
Archival processing assistant Angela Moor is a PhD candidate in the UNLV History Department and is currently completing her dissertation. She is the co-author, with Dorothy Wright, of Clark County Commissioners 1909-2009: A Century of Service.
The Elmo C. Bruner Architectural and Real Estate Appraisal Records (1937-1950) (MS-0177) provide a detailed look at the urban development of the region as well as building design, style, and neighborhood characteristics. The records also highlight the growth of Las Vegas and the transition of downtown from residential to commercial.

Elmo C. Bruner arrived in Las Vegas, Nevada in 1947 hoping the climate would help his young son's asthma. He quickly became partners in the architectural firm of A. Lacy Worswick. Bruner designed several significant buildings in Las Vegas, including Frazier Hall at Las Vegas High School and St. Anne's Church on Maryland Parkway. He also worked as an appraiser for commercial and residential lots. The appraisals in the collection provide a rich history of the urban development of Southern Nevada. The collection also includes some of Bruner's architectural drawings including several house designs.
The real estate appraisals in the collection offer detail about the building of Las Vegas that is not likely to be recorded anywhere else. Worswick had started doing appraisals before Bruner joined the firm and he completed the earliest appraisals in the collection.
The appraisal document pictured above of the famed Green Shack Restaurant Restaurant on Boulder Highway from 1941 describes the materials used in the construction of the restaurant and the layout of the building. Mrs. Jimmie Jones opened the restaurant in the early 1930s and it soon became well known for its fried chicken and biscuits. After Prohibition the bar became a popular hangout.
Bruner's company also completed detailed appraisals used by banks in loan decisions. The images below are of a Hi-Rise room at the Stardust taken in 1965 and capture the opulence of the resort.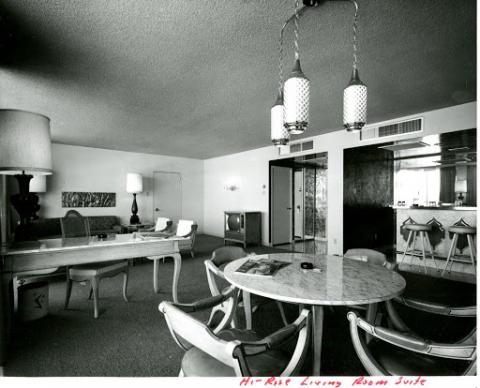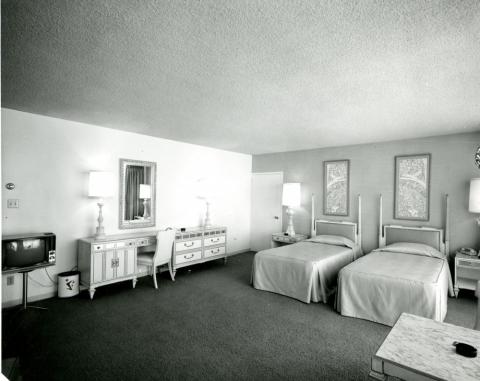 In addition to Bruner's appraisal work the collection includes some of his architectural drawings. He designed the original public administration building at McCarran Airfield. His design captured the southwest image of Las Vegas in the late 1940s through its use of adobe. Thestructure was later built over as the airport expanded.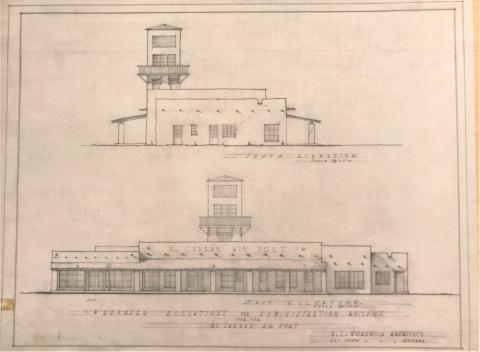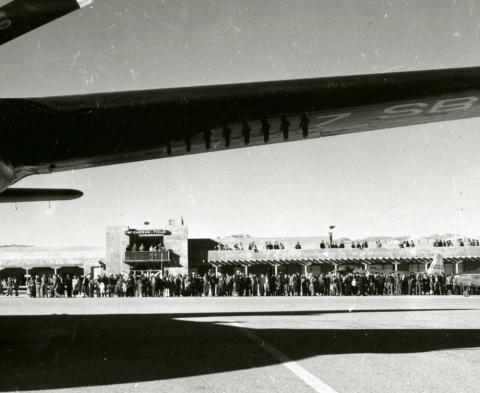 Bruner passed away in 1973. His records capture details about the growth of Las Vegas in the 20th century that would otherwise be lost and are useful to urban historians as well as those interested in architecture and real estate.