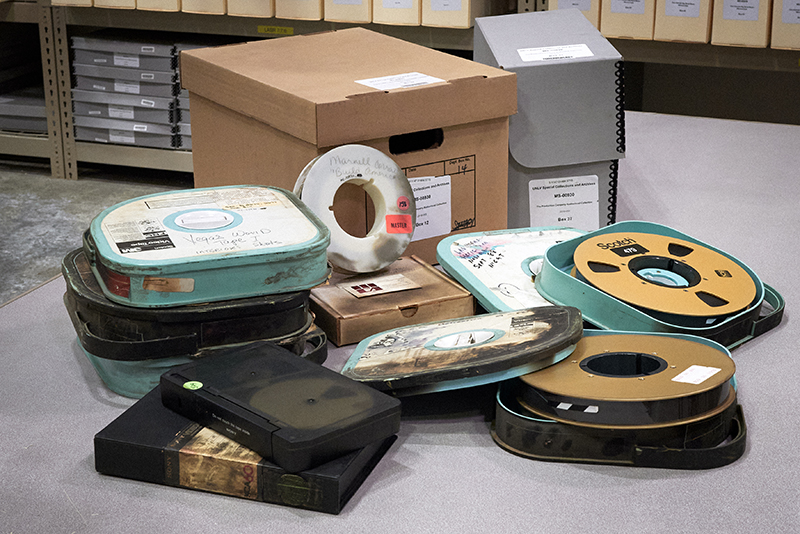 Oral histories of casino workers and executives. Aerial footage of Las Vegas. Entertainment acts from the Stardust Casino. Publicity records on a Las Vegas casino owner and entrepreneur.
These items are among the collections that will be digitized as part of "Doubling Down: Preserving the Stories of the Workers and Dreamers Behind the Las Vegas Casino Industry" and preserved in UNLV University Libraries Special Collections & Archives. The project was recently awarded a Recordings at Risk Grant from the Council on Library and Information Resources to support digitization work.
"We are grateful to CLIR for recognizing the importance of our work in preserving the stories of the individuals who have contributed to making Las Vegas such a destination for travelers," said Sarah Quigley, director of Special Collections & Archives. "It is vital that we digitize these items for preservation because they are in a variety of physical conditions and obsolete formats that prevent them from being accessed by researchers."
The Doubling Down project will digitize approximately 800 unique audiovisual items found across a number of archival collections related to gaming and hospitality.
"Digitizing and making these recordings available will help scholars hunting for a glimpse of industry insight, but also bring to life the voices of casino laborers who keep the city and its massive industry running," said Sarah Jones, head of Special Collections & Archives Technical Services, who is leading the project with Visual Material Curator Aaron Mayes. "These materials will help researchers from around the world understand how the casino industry functioned, grew, and changed. In a city that thrives on its ephemeral lure, this project helps to make Las Vegas's history permanent."
The material to be digitized dates from approximately 1960 to 2005 and provides unique insight into the conception, construction, and marketing of casinos. The materials also document the lives of the casino workers, customers, and dreamers who built Las Vegas. These materials include:
"This project's set of materials from these five unique collections bridges the gap between the well-known "old Vegas" of the 1950s and 1960s and today's glamorous tourist destination," said Mayes. "It documents a pivotal time in the region's history when hotel/casinos were built, closed, and imploded to make room for the next dreamer."
Digital files will be made available to researchers in Special Collections & Archives in Lied Library, and preservation master files will be stored for long-term digital preservation.
The project was one of 17 projects selected for funding during this cycle of the Recordings at Risk grant program. With generous funding from the Mellon Foundation, the Recordings at Risk grants support the preservation of rare and unique audio and audiovisual content of high scholarly value.