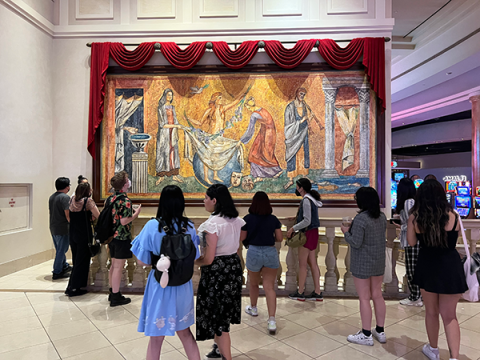 Our Researcher Profile series highlights researchers and who have used resources in Special Collections & Archives for a variety of projects ranging from articles and books to exhibits and documentaries and more.
This week's post focuses on the work of Dr. Roland Betancourt, art historian and scholar of Byzantium and modern popular culture at the University of California, Irvine. His most recent works are Performing the Gospels in Byzantium: Sight, Sound, and Space in the Divine Liturgy (Cambridge, 2021), and Byzantine Intersectionality: Sexuality, Gender, and Race in the Middle Ages (Princeton, 2020).
1. Tell us a little bit about the project (book, exhibit, article, documentary, report) you researched in Special Collections & Archives.
Las Vegas intersects with a series of my ongoing projects. While I am an art historian of the Byzantine Empire, my scholarship has had a longstanding interest in the representation of Byzantium and the broader Middle Ages in popular culture. This combines with a longstanding interest in theming, particularly the various ways in which corporate America has sought to create immersive worlds based on ideas of the ancient and medieval pasts. Of course, Las Vegas is the perfect place to study these types of issues.
Part of my research in Special Collections & Archives has contributed to an ongoing book project called, Queer, Byzantine, which looks at the ways in which queer artists, authors, and screenwriters have deployed imagery of the Byzantine Empire to produce an alternative vision of the Middle Ages. One of my chapters looks at the ways in which Las Vegas has been repeatedly compared to an American Byzantium and even the ways in which Robert Venturi and Denise Scott Brown repeatedly cited Byzantium as a model for what Las Vegas achieved in its 1970s architecture. In this chapter, I am interested in substantiating why these two seemingly different spaces would be so repeatedly paralleled and where we might find the passing references and glimpses of the Byzantine in Las Vegas today.
I was recently awarded a Guggenheim Fellowship for this book project. And, I am also considering developing some of the additional research on Las Vegas for a book project tentatively called American Antiquities that looks at the rise and interest in theming and historical reconstruction during the "culture wars" of the 1990s.
2. How did you hear about Special Collections & Archives?
For many historians, archives determine the types of questions we can ask of the past and the sources we might have available to answer those questions. Whenever I travel to a new location, I love to look at local archives and collections to get a better sense of the types of materials that have been preserved and what questions one might be able to formulate around these materials. As someone who has had a longstanding interest in Las Vegas, I had always been curious to learn more about what might be preserved across local sites and was thrilled to discover UNLV's Special Collections & Archives. Given that so much of my research confronts the impasse of inaccessible or lost corporate archives, the SCA's resources are an incredible font of information and detail that capture the complexities of Las Vegas's hotel architecture.
3. What resources, collections or materials from Special Collections & Archives were most impactful for your research?
Much of my research on Las Vegas focuses on the art and architecture of hotels on the Las Vegas Strip from the 1980s and 1990s, particularly the Luxor, Excalibur, Venetian, and Caesars Palace. While collections vary in their depth and utility across these various hotels, I found the UNLV's Luxor Hotel and Casino Promotional Materials and Reports collections to be the most insightful and rewarding in being able to reconstruct the world of this hotel when it first opened. I was also thrilled to discover the Nat Hart Professional Papers, an incredible snapshot of Caesars Palace's food and beverage services, a massive collection including menus, training materials, and architectural designs. Oftentimes, when we think about theming, we tend to ignore the way in which foodways have been deployed for these purposes. This collection shows the potentials and limitations of theming through food, while also providing a meticulous look at the administration of the hospitality industry of its period.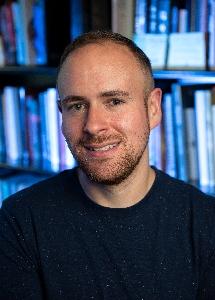 Often, the most relevant and important of materials to your research will only be a folder long and much of the other materials can seem like noise as your work through it, scouring to make sure you do not miss anything that's relevant.
4. How did you become interested in the topic(s) you wrote about?
I have had a longstanding interest in Las Vegas and theming, one which has particularly developed over the past nine years since I came to Southern California to work at UC, Irvine. During this time, I have taught graduate and undergraduate classes on "Disneyland" and, more broadly, on "Simulacral Spaces," which seeks to ground theming within the specificities of Southern California and the American Southwest. In the course of teaching an iteration of my Simulacral Spaces seminar, I did a weeklong field trip with my class of eighteen students to Las Vegas. We spent the entire quarter focusing in on Las Vegas as a case study for themed, simulacral spaces. And, once we arrived in Las Vegas we began and ended our trip at Special Collections & Archives so that my students could learn more about the types of questions they could ask from the materials preserved, enrich those questions by sustained, day-long site visits to all the Strip hotels and other local collections, and then round off their research at the end of the trip by returning to the archives and consulting further materials.
5. What surprised you the most about your research in Special Collections & Archives?
Without a doubt, beyond the richness of the collection, what surprised me the most was the immense care and attention of Su Kim Chung and her staff during my first and subsequent visits. Particularly, I am grateful for the immense time and effort they put into helping my eighteen students navigate the complexities of the archives. Not only did they facilitate this visit and educate them on local Las Vegas history, but they also helped guide students through their first archival experience.
6. What advice would you give to other authors/researchers using Special Collections & Archives? (Otherwise known as what I wish someone had told me before I visited Special Collections & Archives)
The hardest part of any archival research is negotiating the scale of collections and the time you can dedicate to them. Often, the most relevant and important of materials to your research will only be a folder long and much of the other materials can seem like noise as your work through it, scouring to make sure you do not miss anything that's relevant. Yet, the most critical part is being open to what the archives provide and allowing yourself to think of where new and unique sources might point you in your future work and studies.
7. How did your research in Special Collections & Archives change your perceptions about Las Vegas? Las Vegas is an infinitely complex and fascinating place. Yet, what I think Special Collections & Archives has the power to do is to deeply humanize Las Vegas, its peoples, and its struggles. There are the things about Las Vegas that drive many to this place – the hotels, the mob, the bomb – but there is also a complex city that has built itself in and around these stories. It is easy to overlook the other stories in the interstices, but I think those might be even more dazzling than the neon and atoms.
9. If you are from out of town, what other places did you visit (could be other sites for research, restaurants, etc.)
With my Simulacral Spaces seminar, we spent an entire week combing through the art and architecture of the Las Vegas Strip. At the Luxor, we traced the path of the Nile River Boat Ride that originally lined the lobby of the hotel when it first opened, using the original maps preserved in Special Collections & Archives. Then, we visited the Ancient Egypt galleries at the Las Vegas Natural History Museum to see the various murals and reproductions of artifacts from King Tut's Tomb that were produced for the Luxor Hotel's spaces and that were eventually salvaged by that museum as much of the theming was purged from the hotel in the late 1990s. At the Mandalay Bay, we explored the gardens out front and talked about the ways in which Southeast Asian architecture was being cited and used in this small and forgotten space. At the Excalibur, we thought about the particular vision of the Middle Ages being reproduced in this storybook castle and compared it to the evolution of theming, not only at the Luxor, but also at places like New York, New York. There, we admired New York, New York's set-like quality and gawked at the mural of Lady Luck (based on the carving of Wisdom at Rockefeller Center), noting how Wisdom's compass is here replaced with the lightning strikes of fortune as the dices roll out of her hand. At the Venetian, we marveled at the meticulous plaster-cast reproductions of Venice's medieval sculptures, while also asking why all the Byzantine elements of Venice had been purged across the hotel. And from the Bellagio to the Cosmopolitan, from the Wynn to Resorts World, we asked questions about how theming has been reinvented and revised: no longer is meticulous citation the immersive experience, but rather the rich sheens of luxury, where one can pretend to live in a high-rise apartment or be bathed in rich marbles, carpets, and flowers. Throughout, we punctuated our days with visits to the Mob Museum, the incomparable Neon Museum, and rounded off our trip with "O" at the Bellagio, where we had a behind-the-scenes glimpse after the show of the technological wonders of scenic automation that make the spectacle happen.