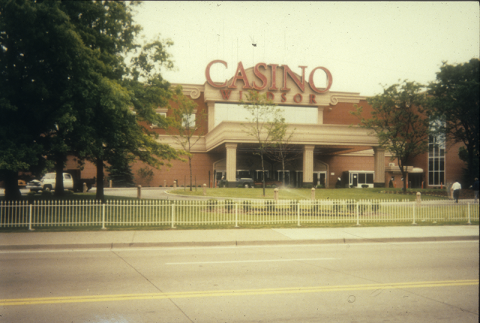 William R. Eadington Fellow Rob Csernyik is a Master of Fine Arts candidate in the University of King's College's creative nonfiction program. He will present the next Eadington Fellow Colloquium, "Canada's losing gamble on American-style casinos", on Friday, March 3 at 3 p.m. in the Goldfield Room at Lied Library. The event will also be livestreamed.
---
For years before government-run commercial casinos started opening across Canada, bureaucrats daydreamed about getting in on the game. But it wasn't until the early-1990s recession and a wave of expanded casino gaming in the United States that visions of enriching provincial coffers and attracting high-rolling tourists were pursued in bricks and mortar.
But there was a tug-of-war of what casino model to follow in Canada. Discreet, upscale European-style casino gaming might reduce negative societal spinoffs—which government owners had an interest in preventing. Meanwhile American-style gaming, with its less exclusive and heavily-commercialized nature offered bigger profit potential.
The first commercial casinos, in Winnipeg, Manitoba and Montreal, Quebec featured hallmarks of European-style gambling like limits on alcohol and dress codes. But when the province of Ontario opened a casino in Windsor, a working-class border city across the river from Detroit, these days were numbered. Initially, there was talk it would feature a bespoke "made in Ontario" model, something in-between Winnipeg and Atlantic City. But as the project progressed, an American-trio of firms won the right to manage it and to appeal to cross-border customers it became an American-style gaming facility. Other Canadian markets, eyeing Windsor's unique success, eschewed the European approach, even though it may have been more appropriate.
Today there are more than 100 casinos across Canada still shaped by the 1990s-era American presence which has largely exited the industry. I contend past decisions spurred by American firms bidding for management contracts, American consultants and researchers suggesting best practices, and attempts at catering to American tastes to attract tourists and clawback domestic dollars gambled below the border still profoundly shape how Canadians gamble.
At the UNLV Special Collections & Archives, I'm researching holdings related to Canadian gambling including consultant reports, correspondence with gaming authorities and other documents to better understand the rationale and timeline of this shifting approach toward American-style gaming. I'm also interested in better understanding how William Eadington (whose work Canadian governments often cited in their decision-making) viewed the Canadian casino market and if in his notes and correspondence he indicated a preference for a particular casino model in Canadian markets. My eventual goal is to incorporate this research into a book I'm writing about Canada's casino industry.