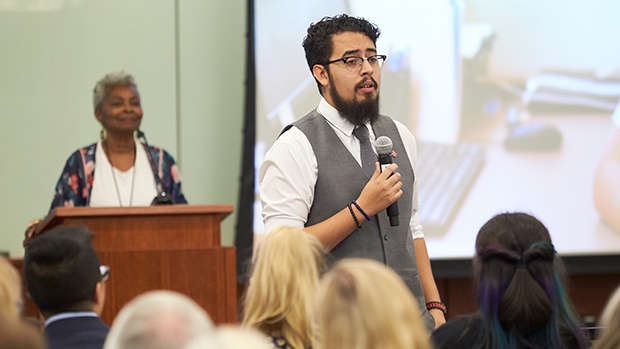 As the Latinx Voices of Southern Nevada project gets underway, this series highlights the UNLV students who are working as oral historians on this UNLV University Libraries Special Collections & Archives project.
Fans of KUNV Radio may recognize Laurents Bañuelos-Benitez's voice. The UNLV alumnus and current UNLV graduate student developed his first passion at UNLV while working at the campus radio station. Now as one of the students working on the Latinx Voices of Southern Nevada project in the University Libraries, Bañuelos is embracing his passion and understanding for Latinx cultures while collecting oral histories from Latinx residents in Las Vegas and Southern Nevada.
A native Nevadan, Bañuelos is the son of Mexican and Salvadoran immigrants. He was born at University Medical Center and grew up in east Las Vegas. He graduated from Clark High School before attending UNLV. The first person in his family to graduate from a four-year university in the United States, Bañuelos earned his Bachelor of Arts in Journalism in 2017. He is currently pursuing a master's degree in education, with hopes of working with underserved youth in the Clark County School District.
We asked Laurents Bañuelos to share more about his experiences so far working on the Latinx Voices of Southern Nevada project and what he hopes others will experience when they read the stories of the Latinx residents who helped shape the history of our region.
Why did you want to be involved in the Latinx Voices of Southern Nevada project?
I wanted to get involved with the Latinx Voices project because I felt that it was an important project not just for me, but the community as whole. I also wanted to part of making sure this project was done well. This project was about my community's story and I felt that it was important that it be worked on by members of the community.
How do you imagine future researchers, educators and curious people will use the Latinx Voices project?
Reflecting on the future of this project's usage I think the possibilities are endless. I would love to see documentaries or research books be put out based on the work that we are doing. I also envision this being used in classrooms, teaching future students about important figures that have similar backgrounds as them and how vital they were to Las Vegas.
Describe what you see as the benefits to the Las Vegas community that this project provides.
Las Vegas often gets criticized for not having a community; people believe that residents come and go. As someone that has grown up here, I know this to be far from the truth. This project benefits the community by putting a spotlight on the Latinx community's achievements in the Las Vegas Valley. It illustrates that yes, there is a history here that involves your community, and yes, there is a place for you here as well.
How has working on the Latinx Voices project changed you thus far?
Working on this project has changed me in a couple of ways. First, I constantly find myself asking who should I look for to interview. As I drive past buildings, I'm asking what's the story behind that. I am constantly asking questions, thinking about new leads to follow. The second way this project has changed me is how connected I feel to my city now. I know so much more history now then I did before, I see the values I was raised with reflected in the stories I am being told by strangers. It's an amazing experience and something I hope more people will be exposed to as the project being to spread and these interviews become available.
If you could conduct your dream interview, who would it be with and why?
My dream interview consists of a few people that I don't think I could narrow it down to just one. In no particular order my dream interviews would be: Mexican painter, Frida Kahlo; Mexican Revolutionary Leader, Pancho Villa; First indigenous President of Mexico, Benito Juarez; Archbishop of San Salvador and newly appointed saint, Oscar Romero; and finally I would want to interview one of the families that lived in Chavez Ravine before it became Dodgers Stadium.