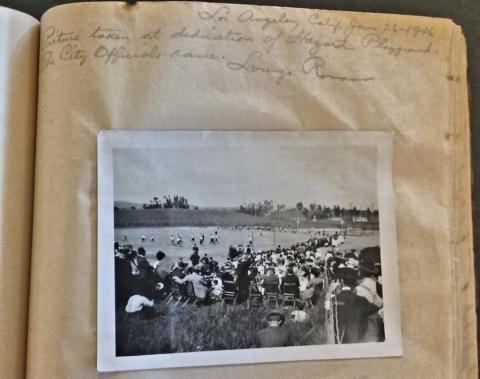 Crowd watching sporting event at park opening in Los Angeles, CA, c. 1911
Melise Leech is an archival processing assistant in UNLV Libraries Special Collections & Archives.
Among the many interesting, unique, and important photograph collections in the UNLV Special Collections and Archives there are also smaller collections holding photographs that – while perhaps not as historically important– offer a glimpse of the lives and times of the people who owned them. These small collections hold photographs that open a window into what their owners considered important; family, home, work, holidays . . . even poignant momento mori taken to preserve the memory of a lost child.
Although they can feel tucked away and out-of-sight, an archive is a good place to keep photographs, with controlled temperature and humidity, and safe storage solutions. This environment means that the original physical context of the photographs can often be preserved, with the presence of the original albums adding an additional layer of protection. This context provides valuable insights along with the experience of turning the same pages the creator turned as they revisited their memories.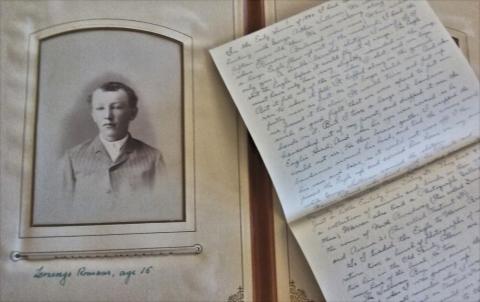 Lorenzo Romans included this hand-written account of an escapade when he was 15 years old
Victorian era photograph albums ranged from tiny to tabletop and were usually featured padded, velvet or leather covers. The pages were thick, double-sided, and rigid to hold the cardboard mounted photographs of the day and the whole was closed with metal clasps that were often elaborately decorated. These clasps were necessary to keep the thick pages closed.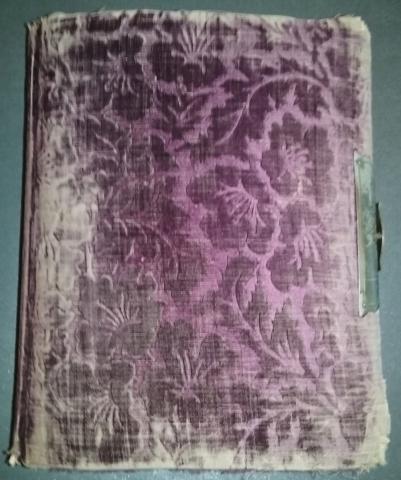 Lorenzo Romans photograph album, exterior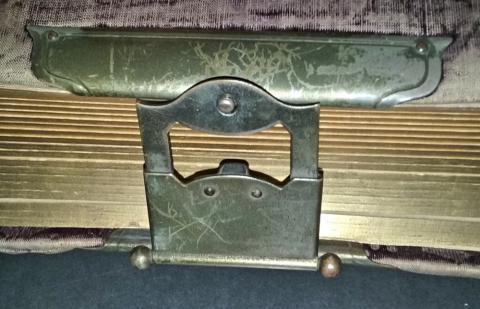 Clasp of Romans photograph album
Tintypes, carte-de-visite (CDV) and their slightly larger cousin, the cabinet card, were the most commonly produced photographs of the latter nineteenth and early twentieth centuries. The first 'mass produced' photographs, CDV were created with the "Multiplying Camera" that produced multiple, identical 4.5" by 2.5" albumen prints on a single plate – usually four to eight identical images.1 Cabinet cards were created in the same fashion, but limited to two per plate, allowing finished photographs that measured almost twice as large as their smaller cousin. Both CDV and cabinet card images were mounted on sturdy cardboard backs that did not require protective cases, making them economical, shareable, and very popular.2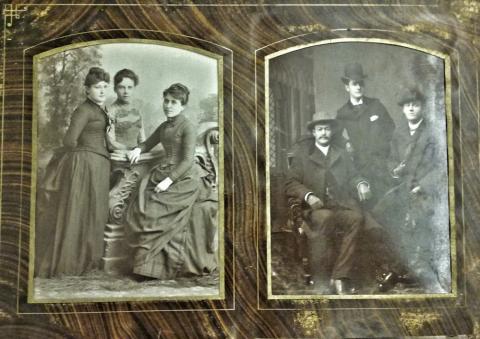 Photographs from the Leonard Blood album, dated c. 1880-1890
In the UNLV Special Collections and Archives, the Lorenzo Romans Papers (MS-00173), the Leonard Blood Papers (MS-00161), and the Wilson Family Papers (MS-00125) all contain photograph albums that date broadly from the 1850s to the 1940s, capturing individuals, families, and groups. Photographs in these collections also include city scenes and daily life from sports to office work to hunting trips and holiday events. Some are labeled, many are not – but all have stories to tell. Drop by and take a turn through the pages of these albums with the Romans, the Bloods, and the Wilsons. You may be surprised at what you discover!
1Rob Niederman, 4-Tube Carte de Visite Wet Plate Camera, 1860s, 2002 (accessed 5 April 2018), http://www.antiquewoodcameras.com/wetpl1.html
2Georgen Gilliam Charnes, Cartes-de-Visite - the first pocket photographs, Keeping History: Nantucket Historical Association, accessed 4 April 2018, https: //www.nha.org/history/keepinghistory/KHcdv.htm