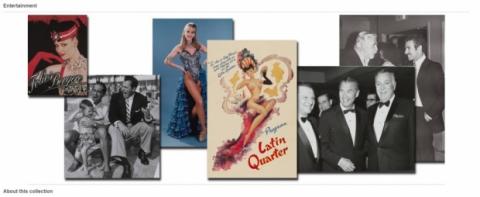 In her introductory blog post, Doris Morgan Rueda provides some perspective on the digital humanities research she has been undertaking this month in Digital Collections working with Thomas Padilla. Currently pursuing a Ph.D. in History at UNLV with a concentration in North American Culture and Society and Public History, Morgan Rueda was hired to leverage her scholarly background in history to help us to explore Collections as Data concepts in the LSTA entertainment grant collection. With her help, we hope to learn and apply some concrete examples of how data visualization can be applied to our digital collections
Digital history has become a buzzword lately yet the definition seems to shift depending on who you ask. For many in the field, digital history is simplified to a historical website or a digital project. This line of thinking merely changes the mode of final presentation of historical projects with the web replacing the traditional monograph. However, our idea of digital history should be expanded to include thinking about the tools and methodology digital technology provides historians. As the possibilities of digital history continue to grow, historians are being pressed to acknowledge the evolving face of digital historical scholarship. Resistance of nontraditional scholarship has developed for a variety of reasons. Much of the suspicion or aversion to digital history and digital scholarship comes from historians' unfamiliarity with digital tools and methods. This is where a partnership between historians and digital librarians is not only beneficial but critical to the future of digital history.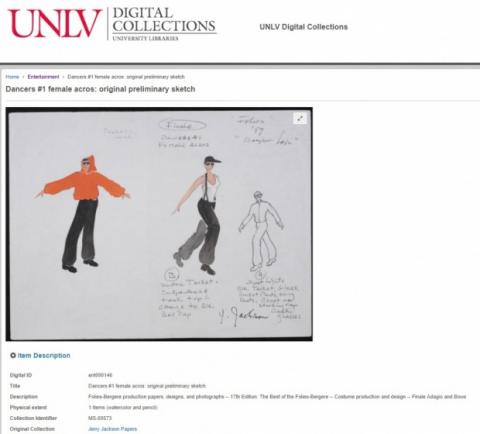 Coming together as a research historian with Thomas Padilla and Emily Lapworth of Digital Collections to tackle the issue of Collections as Data will give us the chance to collaborate across fields. Our goal during this project is to better understand how digital tools can be utilized to enhance the quality of UNLV's digital collections for both scholars and librarians by invoking a "Collections as Data" perspective. Collections as Data (CAD) pushes us to conceptualize archival collections as something beyond physical materials. We should look at digital collections as a wealth of data collecting possibilities that researchers and librarians can experiment with to deepen our understanding of history and our tools of analysis.
In many ways, this project is about experimenting with historian-librarian collaborations as much as it is about collections as data. Often we spend so much time within our fields that we forget the wide range of approaches and specialization that we don't come into contact with on a regular basis. The very nature of Collections as Data necessitates interdisciplinary efforts. The specific goal of this project will be to bring the theories surrounding Collections as Data to the already digitized Entertainment Collections at the UNLV Libraries. This digital collection, consisting of the Jerry Jackson Papers, the Donn Arden Papers, and the Sands Hotel & Casino Public Relations Records will serve as the foundation for several experiments in the upcoming weeks. Currently, we have discussed the possibility of using data visualization to map the development of costume designs and implementing a form of OCR technology to help identify and categorize different forms of written texts. These projects are aimed at discovering what works and what greater understanding it provides of the collection. The following weeks will be designed around experimentation and continuous review. As this project continues, we will make public updates and hope to give the community a better grasp of what Collections as Data means in practice!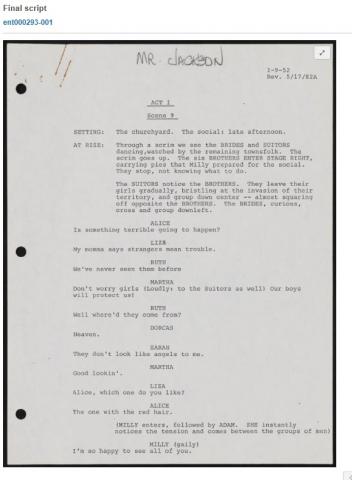 Doris Morgan Rueda is a doctoral student in the UNLV History Department. Her research focuses on the development of juvenile justice systems in the American Southwest with a special interest in international juvenile justice and race in the twentieth century. Her work uses interdisciplinary methods and a transnational approach to explore the representation and racialization of juvenile delinquency in border towns through legal systems and popular images.