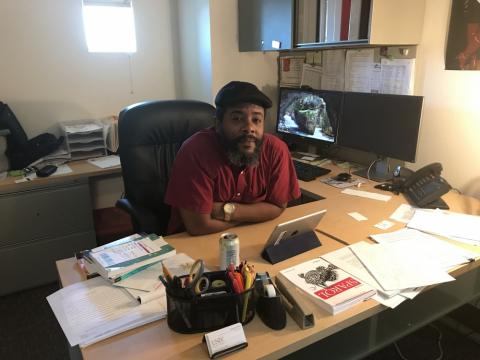 UNLV Libraries Special Collections & Archives Metadata Librarian Darnelle Melvin.
In our Secrets from Special Collections series, UNLV Libraries Special Collections and Archives staff members divulge what they consider to be the hidden gems of the library, sharing answers, based on their own experiences, to six intriguing questions. Here, Special Collections & Archives Metadata Librarian Darnelle Melvin gives us a glimpse into life working among the rare treasures of the library.
1. When you first began working in Special Collections, what was the one item or collection that made your jaw drop, and why? Describe.
When I first began working in Special Collections, learning that we had the Union Pacific Railroad Photographs (PH-00043) made my jaw drop. As a young child, I was fascinated with model trains and had a Union Pacific railroad set. Looking through the collection, I learned a bit more on the Union Pacific's impact on the Pacific West and Las Vegas in particular. Having experiences like that is what really attracted me towards a career in Special Collections. Being able to discover rare and unique resources within and across collections is really inspiring and guides the work I am currently doing to make our metadata more interoperable.
2. What do you think may be the single most overlooked part of Special Collections?
I would have to say, the single most overlooked part of Special Collections is the data contained in our cartographic material holdings. Here in Special Collections & Archives, we are sitting on a gold mine of unstructured geospatial data within our archival collections - especially data within the map and photograph collections. I am excited at the possibility of incorporating this rich collection of spatial information within a geographic information system for visualization and analysis, not to mention incorporating that data as enhanced services as part of the on-going digital asset management system implementation.

3. What is the one question you are most asked about your work, or elements that fall within the scope of your job description?
That's a hard one. It really depends on who is asking the question. If the question is coming from an information profesional, I usually get questions about how to transform or manipulate a particular metadata field, value, or attribute. If the question is from someone outside of cultural heritage, it's usually a basic question like: "What is metadata?" "What is linked data?" or "What does a Special Collections & Archives Metadata Librarian do?"
4. What is the most fascinating or positive aspect of your job? In answering, describe a little about what you do on a daily basis. What is the most difficult aspect of your work? Describe.
The most fascinating thing about my job is that it is dynamic and constantly changing. For example, today, I may be writing computer scripts to remediate a legacy collection. The next day, I may be in meetings fulfilling my various service responsibilities. I tend to work well in hyper environments where the day-to-day responsibilities can change or be re-prioritized. The most difficult aspect of my work is staying current on the rapid changes happening within our profession and with technology.
5. What are you working on right now? How will it contribute to Special Collections?
Where to start, there is a lot on my plate. Currently, I just revamped the Special Collections & Archives Metadata Application Profile and indexing guideline. This effort better aligned local metadata practices to regional and national standards. In conjunction with the new MAP, metadata creators are beginning to be trained on the changes in that profile.
Another project we are working on is the Digital Asset Management System (or DAMS) implementation. This project will greatly impact how Special Collections & Archives will manage reformatted and born-digital resources in our custody moving forward.
As far as research, I am in the beginning stages of a experiment where I intend to identify metadata themes published in peer-reviewed research literature and track how those themes have changed over time across knowledge domains. By utilizing machine learning and text mining tools, clustering algorithms, and content analysis techniques, I aim to uncover themes latent in metadata text corpuses by way of analyzing the article abstracts.
I am also working on a article on metadata migrations and remediations.
6. What advice would you give students seeking to isolate a topic in Special Collections using primary source materials?
I would advise students seeking to isolate a topic in Special Collections to start by looking at the collection strengths of the repository. Once a topic and appropriate collection/s has been identified, I would then advise them to review the notes in the collection guides for more contextual information regarding the contents of the collection/s. From there, I would take a deeper look, by discovering resources within the digital collections repository.