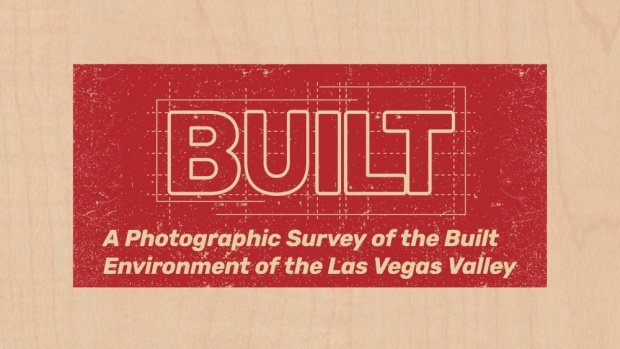 A new exhibit showcasing the extreme diversity of the built environment in Las Vegas is now open on the first floor of Lied Library. "BUILT: A Photographic Survey of the Built Environment of the Las Vegas Valley" features an extensive collection of photographs taken by photographer Aaron Mayes, Visual Materials Curator in Special Collections & Archives, from the Building Las Vegas project.
BUILT showcases Mayes' work to date on the project and spotlights development trends, challenges, successes, and failures in our desert city. As part of "Building Las Vegas," Mayes has taken thousands of photos of the built environment of Las Vegas from housing developments and construction sites to the Strip and the washes and wetlands that dot our desert landscape. He combines these with historical materials that document past construction projects as well as city and county planning efforts. Perhaps the most spectacular part of the exhibit is the "Sahara wall" which showcases the changing nature of the built environment of this major thoroughfare as it moves east-west through our city.
Building Las Vegas is planned as a five-year project to collect oral histories with individuals who shaped our region's built environment; identify and collect archival records from architects, builders, designers, developers, engineers, planners, politicians, and more; photograph the region to document patterns in urban and suburban development, architectural features, and the interplay between built and natural environments; organize and preserve historical records to make them accessible for research; digitize photographs, plans, maps, reports, correspondence, audio and video recordings; build an online, searchable repository for the public to access original evidence and first-hand testimonies about the region's development; and create research fellowships, lectures, panel discussions, and exhibits.
The exhibit will be on display through the Spring 2018 semester. For more information about the exhibit or the project, please contact Aaron Mayes.