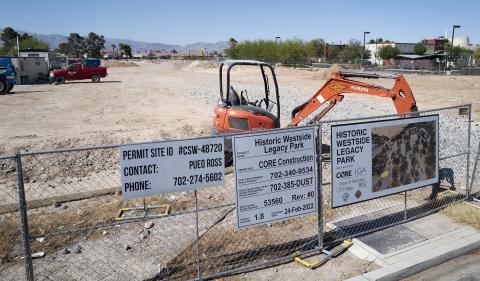 In January, Violet Fox joined the Special Collections & Archives team as the Digital Collections Wikimedian-in-Residence. In this grant-funded role, Violet adds information about selected collections into Wikidata, making those resources more visible to search engines and more findable by researchers.
In my first post on the Special Collections & Archives blog, I talked about the project's first three-week sprint, which focused on adding information to Wikidata about UNLV's resources related to mining in Southern Nevada. Wikidata is a collaborative, open source database which provides information in a structured data format that makes it easier to be understood by computers. Wikidata provides a large amount of information for Internet search engines such as Google, so having some of UNLV's collections reflected in Wikidata provides more opportunities for researchers to discover our resources.
When I moved on to the second sprint, I focused on the Las Vegas Historic Westside Legacy Park, a site dedicated to highlighting the African American history of Las Vegas. Legacy Park is currently under construction and will feature a playground and public artwork. It will also include an interpretive walking trail where visitors can learn about notable community leaders. The first group of 36 leaders to be honored within the park was announced in January 2021, and includes notable activists, doctors, lawyers, and educators. My sprint involved creating Wikidata items for each of these 36 leaders, as well as items for the park itself, the government officials involved in its creation, the artist creating sculptures within the park, and other entities that help create a network of informational items about the park. I researched within the special collections of the UNLV Libraries, finding information about people and places to populate Wikidata with well-referenced data.
I was especially enthusiastic about the opportunity to successfully collaborate with Claytee White from the UNLV's Oral History Research Center to learn more about the cultural history of the Westside and the information available in the UNLV Libraries that describe the Westside in the words of the people who developed the neighborhood's strong community bonds. You can view oral histories, manuscript and photograph collections in the UNLV collections related to the leaders honored by inclusion at the new Las Vegas Historic Westside Legacy Park by running this query: w.wiki/3FKm (click the big blue triangle/play button to see the results). Creating a Wikidata item for each entity helps searchers connect with information, so, for example, when people search the Internet for civil rights activists in Las Vegas, they'll find information about Helen Anderson Toland, the first Black female principal for the Clark County School District and active member of the Las Vegas NAACP. A link to the Helen Anderson Toland oral history interview conducted by Claytee White in 2007 provides extensive details about Toland's life and activism within the African American community. I hope this work inspires people to learn more about the rich history of the Westside.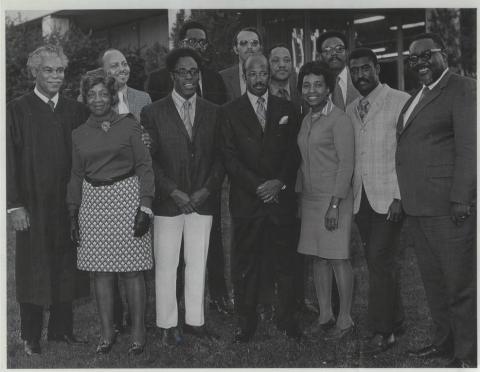 Shifting to the third sprint meant pivoting to creating Wikidata items about historic Nevada newspapers. During this period, I added information that reflected work done through the Nevada Digital Newspaper Project (NVDNP), an extension of the National Digital Newspaper Program. Over multiple grant-funded periods, the UNLV Libraries staff digitized newspapers published between 1789 and 1963. You can see a list of all the Wikidata items I created for newspapers through this project with this SPARQL query: w.wiki/3BMt. Each of those Wikidata items include links with records in OCLC WorldCat, the Library of Congress catalog, and the Chronicling America website, enabling further semantic connections across the Internet. These connections will open up new discovery avenues for anyone interested in Nevada history.
But I didn't stop at just creating items for the newspapers: I was able to add lots of information about the editors and publishers of these works. It's not surprising that many newspaper publishers were important figures in their communities, often serving as legislators and business owners, so creating Wikidata items for these folks creates a fuller dataset relating to the early settler history of Nevada. I also added information about notable journalists, including many members of the Nevada Press Association's Nevada Newspaper Hall of Fame. One favorite personality I came across was Ruthe Deskin, a writer for the Las Vegas Sun. After a 1963 fire destroyed the Sun's plant, Deskin opened her home as the newspaper's offices, with editors and reporters working out of her kitchen and garage.
To help create standardized items during this sprint, I used Cradle, a tool that provides forms to create Wikidata items for different entity types. There was no form for newspapers, so I gathered all the relevant properties that you might expect to find for a newspaper (such as publication dates, place of publication, frequency of publication, etc.) and encoded a new Cradle form for newspapers (you can find it on this list of all the Cradle forms). I also created a guide describing how to create Cradle forms for those interested in taking advantage of this valuable tool.
I learned so much about Wikidata, SPARQL queries, and tools such as QuickStatements during this 12-week residency. I was delighted to be asked to continue this work for another 12-week stint, so look for a report on my next projects in June!