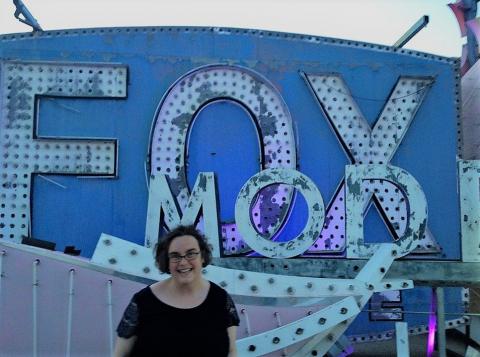 In January, Violet Fox joined the Special Collections & Archives team as the Digital Collections Wikimedian-in-Residence. In this three month grant-funded role, she'll add information about selected collections into Wikidata, making those resources more visible to search engines and more findable by researchers.

I'm glad for the opportunity to introduce myself and the project I'm working on! I'm a metadata librarian currently living in Washington, D.C. Since graduating with my MLIS from the University of Washington in 2013, I've worked as a cataloger at small and mid-sized academic libraries. From 2018 to 2020, I was one of the editors of the Dewey Decimal Classification, creating new class numbers corresponding to new publishing trends. My background is on the traditional side of cataloging, so I'm excited for this opportunity to play with metadata in an entirely different environment.

This pilot project will include a variety of sprints, each lasting a few weeks and focusing on a specific set of resources in Special Collections & Archives. For the past few weeks, I've been working on our first sprint, which focused on resources about the mines of Southern Nevada. I added about 100 Wikidata items, representing oral histories, photograph collections, and manuscript collections. Each of those items has about a dozen statements that help describe the collection in a machine-readable way, making connections between entities more explicit. Take a look at an example, like the Wikidata item for the Blue Diamond Mine Corporate Records, to see the kind of information included. When researchers are looking for information about the Blue Diamond Mine, having a clear link between the subject (the mine) and the archival collection (the corporate records) will help surface this information more readily in Internet search results. Although 100 items might not sound like much, those items have resulted in over 2,000 page views for those Wikidata items in the past two weeks!
One of the many colorful characters I "met" during this work was Nan Doughty (1907-1987), an artist and educator who used her family histories to write historical essays about early Nevada. Her extensive papers are here at UNLV, along with a photograph collection; I loved learning more about her life and seeing her fashion change through the years, from a pantsuit in the 1920s to this stylish 1970s scarf and cat-eye glasses. (Another treasure from the Doughty photograph collection: these twin goats named "Pete" and "Repeat," confirming that joke dates back to at least 1924!)

To create these items, I used a new-to-me tool called QuickStatements, a tool used to add new Wikidata items and information about those items. The tool allows for batch editing of many items at once, using data that can be downloaded from a spreadsheet. The QuickStatements help page is very thorough, but since I didn't have much experience with command line editing, I had a hard time parsing some of the instructions on my first attempts. For others interested in using this tool, I've created a brief introduction to QuickStatements that may be useful as a supplement to the help page. I did a lot of experimenting to determine the most efficient way of batch loading information, gradually building more complex syntax to add multiple labels, statements, and qualifiers at a time. There was definitely a learning curve to the tool, but I think there's a lot of potential in cultural institutions like libraries and archives using QuickStatements to quickly add large amounts of information to Wikidata about their collections.

In the second sprint, I'll be shifting gears and turning my attention to creating Wikidata items relating to the Las Vegas Historic Westside Legacy Park, which is currently being built. In addition to creating Wikidata items for the park itself, I'll be creating items for each of the 36 community leaders being honored by the city for their contributions. The list of honorees include artists, activists, government officials, and other icons of the neighborhood—I'm looking forward to getting to know more about each of their stories.

In April I'll share more information on my continuing adventures in Wikidata! For those interested in the details, you can follow along with our progress at the Wikidata page for our project.