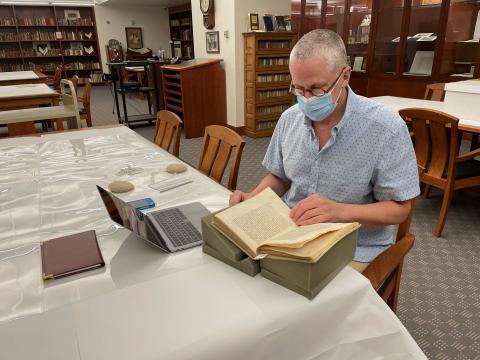 We are pleased to welcome this month's Eadington Fellow Dr. John Eglin, Professor of History, University of Montana, Missoula. A member of the American Society for Eighteenth-Century Studies, and North American Council on British Studies, Eglin's work explores the relationship between culture and politics in British society from the late 1600s until the end of the 1700s.
His past work includes The Imaginary Autocrat: Beau Nash and the Invention of Bath. London: Profile Books, 2005, and Venice Transfigured: The Myth of Venice in British Culture, 1660-1797. New York: St. Martin's Press, 2001. He is also editing James Boswell's journal in Italy, France, and Corsica for the Yale Edition of the Private Papers of James Boswell.

Eglin's current research project, entitled "Gambling and the Public Sphere in England's Long Eighteenth Century," traces the emergence of commercialized gambling from the 1660s through the 1790s. While at UNLV Libraries Special Collections and Archives, Eglin will be exploring our collection of historic gaming literature with a focus on works from the 17th and 18th centuries.

As part of his Eadington Fellowship, Dr. Eglin will present a virtual lecture "In the Shade of the Royal Oak: Commercial Gaming by Royal Patent in Restoration England" on April 26 at 3pm. Please RSVP to obtain the WebEx link.

The Eadington Fellowships program, sponsored by the Center for Gaming Research in Special Collections & Archives, funds scholarly research into our collections on gaming and Las Vegas. Fellows conduct research, present a public talk, and write a brief paper that becomes part of the Center's Occasional Papers series. Application information, as well as links to podcasts of the public talks and the papers can be found on the Center for Gaming Research website.