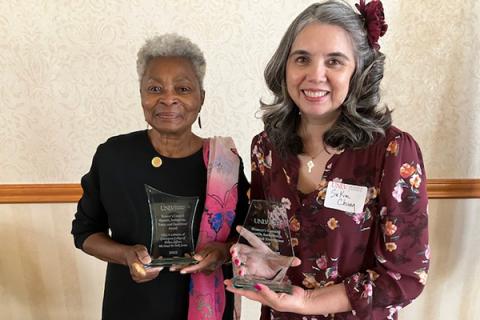 The UNLV Women's Council and the Hiring, Retention, and Assessment Task Force honored the Libraries with two Growth, Inclusivity, Voice, and Excellence (GIVE) Awards for contributions to UNLV's diversity and community efforts at a ceremony on May 4.
The Libraries and the Greenspun College of Urban Affairs received a 2022 GIVE award for We Need To Talk: Conversations on Racism for a More Resilient Las Vegas. The ongoing series was originally launched in the fall of 2020 and has featured many UNLV faculty, students and alumni, as well as members of the Las Vegas community, discussing topics and efforts to end systemic racism.
During the ceremony, Congresswoman Susie Lee presented a Certificate of Special Congressional Recognition to the Libraries and Greenspun College of Urban Affairs for receiving a 2022 GIVE Award.
In addition, the Libraries was presented with a 2020 GIVE award for the work of the Libraries' Inclusion and Equity Committee. The IEC was formed in 2017 and has launched a number of initiatives to create a more inclusive culture within the Libraries.