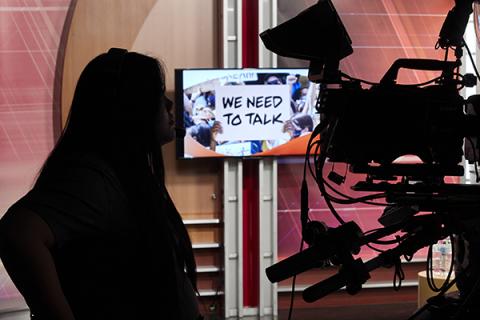 "We Need To Talk: Conversations on Racism for a More Resilient Las Vegas," will host an in-person discussion at 2:30 p.m. on Tuesday, March 8. The series is sponsored by the UNLV Libraries and the Greenspun College of Urban Affairs. The next discussion is titled "We Need to Talk About American Indian Lands."
UNLV acknowledges and honors the Indigenous communities of this region, and recognizes that the university is situated on the traditional homelands of the Nuwuvi, Southern Paiute People. This discussion will address the history of American Indians in the Southwest region. The conversation will focus on issues related to land ownership, housing, cultural celebrations, politics, education, and healthcare within tribal communities.
"We Need to Talk" is an educational series which examines how multiple aspects of systemic racism impact our community. The goal is to propose steps communities and individuals can take to affect positive change. The series features Southern Nevada community members, UNLV alumni, and researchers surrounding issues of race and systemic racism. The series is hosted by Claytee White, Director, Oral History Research Center at UNLV.
Panelists
Alfreda Mitre, Councilwoman, Las Vegas Paiute Tribe and former Senior Tribal Policy Advisor, EPA Region 8
William Bauer, Director of American Indian and Indigenous Studies; UNLV Department of History
When/Where
2:30 p.m. to 3:30 p.m. Monday, March 8. This event will be held in-person and will be livestreamed. UNLV Greenspun Hall Auditorium. Map: https://www.unlv.edu/maps/gua
Livestream
The March 8 episode will be livestreamed on www.library.unlv.edu/weneedtotalk and on the UNLV Facebook Page. Archived episodes from September 2020 to November 2021 are also available on the UNLV Libraries website: www.library.unlv.edu/weneedtotalk.
Educators
Educators can download material from the UNLV Libraries' companion guide https://guides.library.unlv.edu/weneedtotalk. The companion guide offers research, relevant links and statistics.