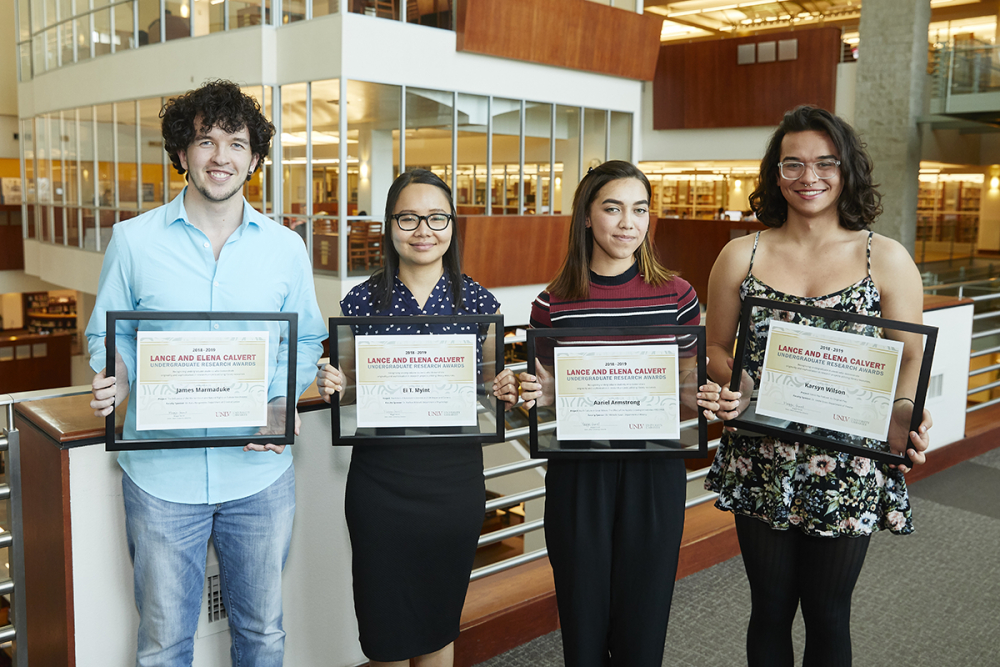 Did you know UNLV undergraduate students can win up to $1,000 for your final research paper or class project? Applications are now being accepted for the 2020 Lance and Elena Calvert Award for Undergraduate Research offered annually by the University Libraries.
With the support of a generous endowment from Lance and Elena Calvert, the University Libraries' Lance and Elena Calvert Award for Undergraduate Research recognizes excellence in undergraduate research projects that incorporate the use of University Libraries' collections, and demonstrate sophisticated information literacy skills.
The judges mainly focus on the research process: the demonstration of library research skills, adept use of library resources and reflection upon the strategies used to investigate a research problem.
Up to five prizes will be awarded in three categories:
Emerging Scholars ($750)
Advanced Undergraduate ($1,000)
Creative Works ($1,000)
Winners receive a cash prize and public recognition of their excellent work at an awards ceremony on Thursday, May 7 at 5 p.m. in the Goldfield Room at Lied Library. View previous Lance & Elena Calvert Award winners in Digital Scholarship@UNLV.
The deadline to submit your application is April 22 at 5 p.m. For more information and to submit your application, visit the Calvert Award website. Questions about eligibility should be addressed to rosan.mitola@unlv.edu.