The Calvert Award recognizes undergraduate students who demonstrate sophistication and originality in research projects. Up to five prizes will be awarded in three categories: Emerging Scholars with a $750 prize, Advanced Undergraduate and Creative Works with a $1000 prize.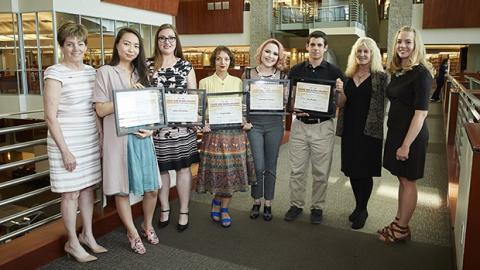 Libraries Dean Maggie Farrell, Head of Educational Initiatives Melissa Bowles-Terry, and Educational Initiatives Librarian Kate Wintrol stand with the 2018 Calvert Award winners.
Apply Now!
Please print or open the full step-by-step instructions in a separate tab or window.
Submit your research
Upload supplemental content
Deadline
The deadline for submitting applications is April 22, 2020, at 5pm.
Required Elements
A 500-750 word essay describing and reflecting upon your research process and use of resources
A final version of the research project including a complete bibliography (use citation style appropriate to discipline)
A letter of support and a cover sheet from the faculty member or instructor of the course for which the research was completed | Download Faculty Cover Sheet
Get help with your research project before you turn it in!
Eligibility
Applicants must:
Be enrolled as a UNLV undergraduate student at the time of project completion.
Have completed the research project under consideration for a credit course at UNLV during the most recent summer, fall, or spring semester.
Agree to contribute to a display of their research during the year following receipt of the prize.
Project length will be dictated by the course instructor or project advisor who supports the application.
Projects by individual or groups in all formats are eligible including:
Research paper or thesis
Design portfolio
Theater designs
Fine arts performance (dance, music, etc. captured on CD or DVD) accompanied by program notes
Creative work (writing, art in any format)
Film
Digital media
Poster Presentation
Questions about eligibility should be addressed to rosan.mitola@unlv.edu.
Criteria
Submissions will be judged on how well applicants demonstrate the following:
Sophistication, originality and/or unusual depth and breadth in the use of library collections, for example books and printed materials, databases, primary sources and materials in all media.
Exceptional ability to locate, select, evaluate and synthesize library resources and to use them in the creation of a project that shows originality.
Evidence of developing an understanding of the processes of research and inquiry.
A panel composed of faculty, librarians, students and staff will judge entries using this rubric describing the criteria named above.
About The University Libraries Lance And Elena Calvert Award For Undergraduate Research
With the support of a generous endowment from Lance and Elena Calvert, the Universities Lance and Elena Calvert Award for Undergraduate Research recognizes excellence in undergraduate research projects that incorporate the use University Libraries' collections and demonstrate sophisticated information literacy skills. The judges mainly focus on the research process: the demonstration of library research skills, adept use of library resources and reflection upon the strategies used to investigate a research problem. Winners receive a cash prize and public recognition of their excellent work.
Past Winners