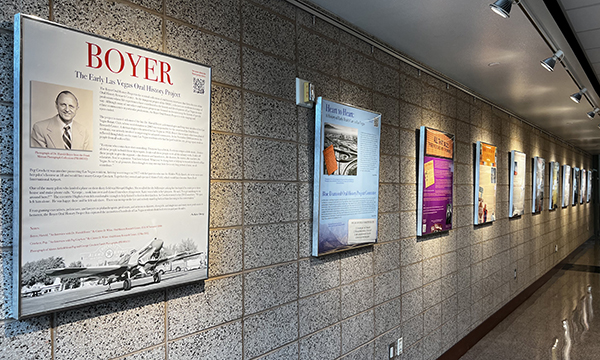 REVEAL: An Exhibition Celebrating 20 Years of the Oral History Research Center is now on display in the first floor hallway of Lied Library.
The exhibition includes panels on the 13 different projects completed by the center; a display case of recording tools used; photographs, names, and biographies of those who have worked with the center; a credits screen of all oral history narrators; and an accompanying website that features the full oral histories of those included in the exhibit.
The exhibition recognizes the work completed by the OHRC over the last 20 years and highlights the need for continued recording of the history of Las Vegas and Southern Nevada for years to come.
It will be available for viewing through the fall semester and additional events will occur as we continue to celebrate the 20th anniversary of the Oral History Research Center.