Congratulations to the three winners of 2008 Libraries' Awards for Undergraduate Research!
Claire White
"Commending Religion to All around Us: Baptist Church, 1780-1850" (faculty sponsor: Elizabeth White Nelson, History)
Loretta Sargeant
"All We Want Is Make Us Free: The Amistad Case" (faculty sponsor: David Tanenhaus, History)
Mark Wilson
"Problems with Gauker's Conditional Semantics" (faculty sponsor: Ian Dove, Philosophy)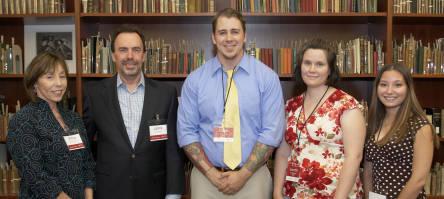 About The University Libraries Lance And Elena Calvert Award For Undergraduate Research
The University Libraries works in partnership with the Division of Research and Graduate Studies to present the Libraries' Awards for Undergraduate Research.
These awards recognize excellence in undergraduate research projects that incorporate the use of University Libraries' collections and demonstrate sophisticated information literacy skills on the part of the undergraduate researcher.
The award review committee considers the product of the research, but focuses on the research process: the demonstration of library research skills, adept use of library resources, and reflection upon the strategies utilized to investigate a research problem.
Winners receive a $1000 prize and public recognition of their excellent work.