Congratulations to the first three winners of the Libraries' Award for Undergraduate Research:
Christina L. Dykstra
The Physical and Social Factors Influencing the Development of Tradition and Ideology (faculty sponsor: Dr. Barbara Roth)
Alexi K. Nedeltchev
Synthesis and Characterization of Poly(pyridinium salt)s with Anthracene Moieties Exhibiting Both Lyotropic Liquid-Crystalline and UV Light Emitting Properties (faculty sponsor: Dr. Pradip Bhowmik)
Jacob T. Smigel
Conglobation in the Pill Bug (Armadillidium vulgare) as a Terrestrial Adaptation (faculty sponsor: Dr. Allen Gibbs)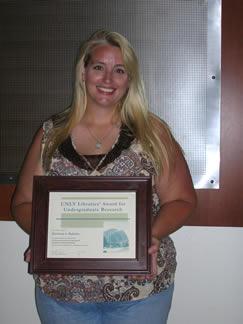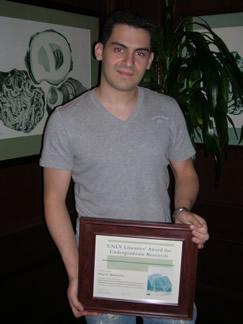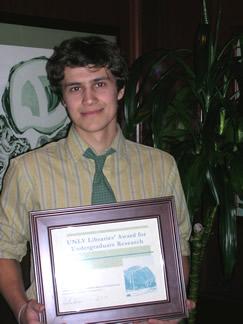 About the libraries' award for undergraduate research
The University Libraries works in partnership with the Division of Research and Graduate Studies to present the Libraries' Awards for Undergraduate Research.
These awards recognize excellence in undergraduate research projects that incorporate the use of University Libraries' collections and demonstrate sophisticated information literacy skills on the part of the undergraduate researcher.
The award review committee considers the product of the research, but focuses on the research process: the demonstration of library research skills, adept use of library resources, and reflection upon the strategies utilized to investigate a research problem.
Winners receive a $1000 prize and public recognition of their excellent work.