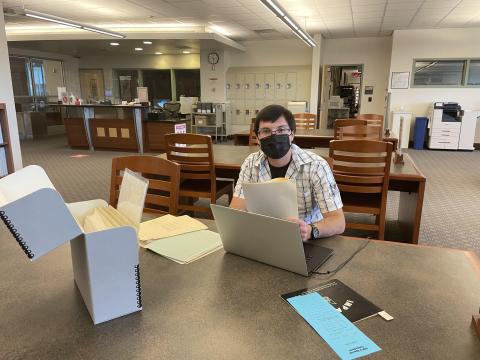 Our Researcher Profile series highlights researchers and who have used resources in Special Collections & Archives for a variety of projects ranging from articles and books to exhibits and documentaries and more.
This week's post focuses on the work of Peter Grema, an undergraduate at the University of Nevada, Las Vegas pursuing double majors in Economics and Real Estate and a minor in Brookings Public Policy. He is also a member of the Honors College and a Student Researcher at Brookings Mountain West and the Lincy Institute. Additionally, he serves as the Managing Director for the Rebel Venture Fund.
Tell us a little bit about the project (class project, book, exhibit, article, documentary, report) you researched in Special Collections & Archives.
I took Dr. Michael Green's History of Las Vegas class in spring 2021 and had a lot of fun researching the Clark County Economic Opportunity Board (EOB). This was a program that began in the 1960s under War on Poverty and Great Society legislation which attempted to help communities of color make economic progress. Here in Southern Nevada, most funding efforts were concentrated in the historic Westside neighborhood. The organization is still in operation today, and for the class I wrote an essay focusing on the mid-1960s to mid-1970s history of the organization.
2. How did you hear about Special Collections & Archives?

I didn't know about UNLV Special Collections & Archives until taking Dr. Green's Honors College class. It's so cool that UNLV Libraries has such a great resource, and Special Collections is truly applicable to any field- I'm studying public policy, economics, and real estate, and there's so much in Special Collections related to those areas that I just wasn't exposed to in my regular classes. The historical records and content in the Collection are amazing.

What resources, collections or materials from Special Collections & Archives were most impactful for your research?
Special Collections & Archives has a whole collection on the EOB. There are original documents ranging from board meeting minutes to financial statements, Presidential reports on the War on Poverty to local newspaper articles from the 1960s on federal programming. This diverse set of sources helped me get a well-rounded perspective on the topic as a whole, and I blended a mix of primary and secondary sources for my paper. The Oral History collections are also great source material and were of immense help.
4. How did you become interested in the topic(s) you wrote about?
I study economics and public policy through my research at the Brookings Mountain West | Lincy Institute think tanks on campus. Having a historical project that was centered on federal legislation and its relationship to local economic policy was right up my alley, and I thoroughly enjoyed researching and blending various disciplines into one project.
What surprised you the most about your research in Special Collections & Archives?
In some ways, I'm surprised that so much has not changed since the 1960s for Black communities and policy in Southern Nevada. The same issues that were salient over 50 years ago are still being discussed today in terms of employment, housing, and education, and unfortunately, some of the progress that was made at that time was not sustainable and did not lead to lasting structural change. Overall, Las Vegas is better off that the federal War on Poverty funding made its way into our community, but more work can be done to address these long-standing issues.
What advice would you give to other authors/researchers using Special Collections & Archives? (Otherwise known as what I wish someone had told me before I visited Special Collections & Archives)
Visit whenever you can! Special Collections & Archives is a really neat opportunity to get involved in research at UNLV, and the staff are super friendly and helpful. It's a wonderful experience literally holding history in your hands as you're doing research.
What is the biggest challenge you faced while working on your project?
It was difficult at first to really get a big-picture grasp on what I was researching. I knew absolutely nothing about the EOB when I started researching it, and the stories that I gathered from various sources slowly began to piece together a broader narrative that I was able to write about. But that story did not come easy at first, and as I moved through my research I realized I needed to better focus on specific topics and narrow my search.
What are you working on next?
At the Brookings Mountain West | Lincy Institute centers I'm working on a project in conjunction with Washignton, D.C. scholars from the Brookings Institution on economic recovery in Southern Nevada following the COVID-19 pandemic. The federal government deployed trillions of dollars in funding due to COVID-19, and we're tracing those efforts to see how they have helped marginalized communities in Las Vegas through the pandemic. In some ways, it's similar to the EOB work, albeit it's a current situation rather than a historical project. I'm also working on a policy brief related to solar energy projects and legislation in Nevada.
What advice would you give other authors?
Have fun with what you're doing and never be afraid to ask for guidance and assistance from faculty, peers, and university staff. In terms of historic research, I've learned that history has motifs- the same issues and themes that were prevalent years ago often become relevant in the future, if they aren't relevant already. So knowing your history helps you to better contextualize the present and anticipate the future.