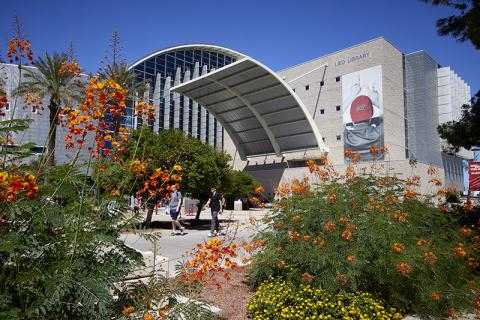 The Dunn Family Foundation has established a $1 million endowment through the UNLV Foundation to fund the creation of the Dunn Family Assessment Collection in the UNLV University Libraries.
The Dunn Family Assessment Collection Endowment will enable the UNLV Libraries to purchase more robust testing collections to support student educators at UNLV and teachers at Clark County School District and other school districts in Southern Nevada.
"We are so grateful to Doug and Karen Dunn and the Dunn Family Foundation for their generosity in supporting UNLV Libraries efforts to provide much-needed collections to support educators in Las Vegas and Southern Nevada," said Maggie Farrell, dean of Libraries at UNLV. "This new collection will provide teachers and future educators with tools that will help them assess their coursework and create better learning experiences for students in their classrooms."
The collection will include sample educational assessment tests, which allows teachers and counselors to gather data on students' knowledge, skills, attitudes, and beliefs. These tests are a core part of teacher education programs. Testing data enables educators to develop individual educational plans that meet the needs of their students. UNLV students will be able to use these tests for coursework and to prepare for their future careers.
"This endowment matches perfectly with the goals of the Dunn Family Foundation by supporting education, the importance of assessment to educational success, and the UNLV Libraries and their leadership," said Doug Dunn, president of foundation.
The endowment will enable the UNLV Libraries to continually invest in these testing materials and remain up-to-date with current instruction and testing standards. In addition to assessments and tests, the collection will include supplemental materials related to specific tests and general assessment practices and theories.
"This transformational gift will give teachers and future educators access to tools to help improve classroom instruction in Nevada," said Amanda Melilli, head of UNLV's Teacher Development & Resources Library. "Our community is blessed with having truly dedicated teachers and future educators who are striving to give their students the best education possible. Thanks to the Dunn family, UNLV will be able to provide access to more quality resources to support the creation of better learning environments for our young people in Southern Nevada."
The endowment will also provide funding to support professional development of Libraries staff on assessment testing, as well as funding workshops and other outreach activities for educators on the use of the collection.
The collection will primarily be housed in the Teacher Development & Resources Library, located in the Carlson Education Building on UNLV's Maryland Parkway campus. For more information on resources for educators available through the UNLV Libraries, visit the Teacher Development & Resources Libraries website.