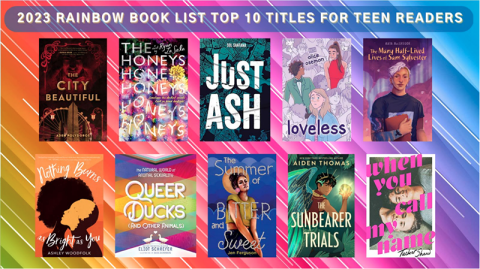 The American Library Association's Rainbow Book List Committee has published the 2023 Rainbow Book List, which consists of over 190 recently published LGBTQIA+ books for young readers from birth to age 18.
Amanda Melilli, Associate Professor and Head of the UNLV Teacher Development & Resources Library, served as committee chair and led a team of 12 youth librarians from across the country to develop the national book list.
"The importance of this list (and others like it) cannot be understated, especially in a time when we are seeing a record number of efforts to ban both materials and support for LGBTQIA+ young people and their families," wrote Melilli in announcing the completion of the list.
This year's committee researched and evaluated over 550 titles in order to find some of the best queer books written for children and teens from July 1, 2021 to December 31, 2022.
Melilli's service and leadership on the committee helps to promote the visibility and access to a variety of books on diverse topics. Through her work, she helps to raise awareness of diverse topics for young readers and their parents.
If you are interested in reading any of the books on the 2023 Rainbow Book List, visit the Teacher Development & Resources Library in the Carlson Education Building.