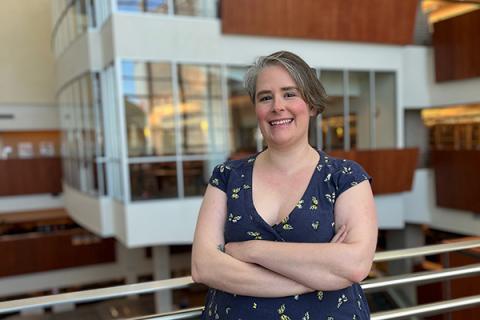 Sarah Quigley has joined the UNLV University Libraries as the new Director of Special Collections & Archives, one of Nevada's top cultural heritage and preservation institutions.
Quiqley brings 16 years of archives experience, and most recently served as the Head of Collection Processing at the Stuart A. Rose Manuscript, Archives, and Rare Book Library at Emory University. She began her career in archives at Abilene Christian University in Texas, and also worked at the Jesse Helms Center in Wingate, North Carolina, before moving to Emory University.
"Throughout her career, Sarah has demonstrated progressive responsibility in managing archives and developing the leadership skills that make her the ideal person to lead our Special Collections & Archives division," said Maggie Farrell, Dean of UNLV Libraries. "Her expertise will be vital in supporting the growth of our unique collections and strengthening ties with students, faculty, and community users who utilize these collections in the classroom and in their research."
Located within Lied Library, Special Collections & Archives supports researchers worldwide in the interdisciplinary study of Las Vegas, Nevada, and gaming. In addition to a team of archivists and curators, Special Collections is home to two nationally recognized research centers, the Oral History Research Center and the Center for Gaming Research, and our internationally recognized Digital Collections department.
Special Collections & Archives houses and provides access to photographs, manuscripts, documents, oral histories, rare books, and other unique materials. Some of our latest projects include:
Reflections: The Las Vegas Asian American and Pacific Islander Oral History Project documenting the stories of the AAPI community in our region.
Inventing Hollywood: Preserving and Providing Access to the Papers of Renegade Genius Howard Hughes, funded by the National Endowment for the Humanities.
Nevada Digital Newspaper Project, part of the National Digital Newspaper Program, a partnership between the National Endowment for the Humanities and the Library of Congress to digitize historic newspapers from Nevada.
The Mike Smith Editorial Cartoons Collection, a collection of editorial cartoons created by Las Vegas-based cartoonist Mike Smith for the Las Vegas Sun newspaper.
The Beverly Rogers Rare Book Curator Endowment, the largest gift to the Libraries which establishes the first named curator position to enhance the rare book collection.
"I'm thrilled to be joining the incredibly talented team of archivists and librarians in Special Collections and Archives and UNLV Libraries," said Quigley. "I've spent my first few weeks getting to know everyone and learning about their experiences and priorities. I look forward to translating all I've learned into a new vision for Special Collections that continues our work preserving the history of Las Vegas and Nevada. It's a joy to work with such dedicated colleagues and I'm excited to see how we can grow the division together."
In addition to her archives work, Quigley has taught classes on archives and collections care for the Foundation for the American Institute for Conservation and the Society of American Archivists, and taught in the Master of Archival Studies Program at Clayton State University.
She has published and presented extensively on archives, curated several exhibitions, and received a grant from the National Historical Publications and Records Commission. She is a member of the Academy of Certified Archivists, and Society of American Archivists.
She has earned a Bachelor of Arts in History and a Master of Science in Information Studies from the University of Texas at Austin.